ABS Wavesight: Connecting Maritime Through Sustainable Partnerships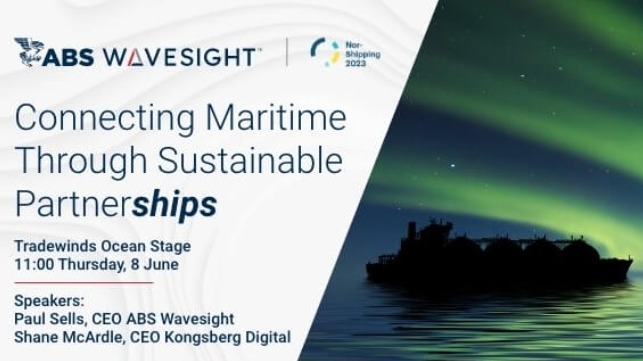 When it comes to reducing the global carbon footprint, no one can do it alone. That's why companies are partnering to create solutions that enhance their capabilities to bring about significant progress.
At this year's Nor-Shipping event, livestream and in-person audiences will hear about how two of the largest brands in the industry are creating software that complements the other's capabilities, as well as bringing forth a joint knowledge base that fosters collaboration amid a competitive landscape.
Join the visionary leaders and company CEOs from ABS Wavesight and Kongsberg Digital on at 1100 on Thursday, June 8, at the Tradewinds Ocean Stage. Paul Sells (CEO, ABS Wavesight) and Shane McArdle (CEO, Kongsberg Digital) will speak on behalf of the strategic partnership between two of the leading software companies in maritime.
To learn more, visit the LinkedIn Event Page.
ABS Wavesight, an ABS-affiliated company, is a global leader in the maritime technology industry pushing to decarbonize operations at sea through digitalization. Through its industry-leading My Digital Fleet™ and Nautical Systems platforms, ABS Wavesight provides maritime clients innovative fleet management software to improve the reliability and performance of their shipping operations.
Kongsberg Digital is an industrial software company shaping the future of work by changing how businesses design, operate and maintain their assets. Businesses trust us for our innovative carbon capture and storage technology, new energy ventures towards net zero, voyage optimization, emissions reduction and technology to help balance grids and complex power systems.
The opinions expressed herein are the author's and not necessarily those of The Maritime Executive.