The USCG's Maritime Security Forces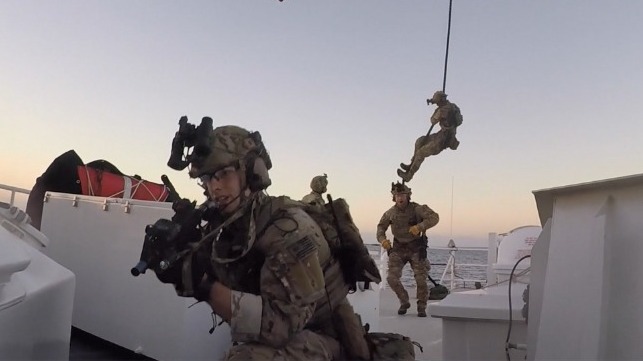 With the terrorist attacks of Sept. 11, 2001, the War on Terror set in motion dramatic changes to the Coast Guard. Prior to the 9/11 attacks, U.S. ports, waterways, and coastlines were protected primarily by Coast Guard boat stations and cutters. Immediately following September 11, Coast Guard resources were reallocated to fill the additional maritime security functions required in a post-9/11 environment.
In 2002, President George W. Bush signed the Maritime Transportation Security Act (MTSA) to protect the nation's ports and waterways from terrorist attacks. The MTSA provided for a Coast Guard maritime security force to function as part of the Department of Homeland Security's layered strategy to protect the nation's seaports and waterways. That same year, the Coast Guard began forming Maritime Safety and Security Teams (MSSTs), supporting the Ports, Waterways, and Coastal Security mission and providing non-compliant vessel boarding capability for service missions. Today, there are 11 MSST teams whose specialties include waterside security, maritime law enforcement and K-9 explosives detection units. MSST assignments have included military force protection, United Nations General Assemblies, national political conventions, international economic summits, hurricane response efforts and major sporting events, such as the Super Bowl.
MSST member prepares to deploy for security detail during the 2018 State of the Union Address, Washington, DC (USCG)
In 2004, in order to fully address the service's congressionally mandated Maritime Homeland Security responsibilities, Coast Guard leadership merged Chesapeake, Virginia's MSST-91102 with Tactical Law Enforcement Team-North to form a new maritime counter-terrorism response capability. Originally designated the Security Response Team One (SRT-1), and then renamed the Enhanced-MSST, the unit was formally established in 2006 as the Maritime Security Response Team. In 2013, the service began forming a second MSRT on the West Coast by transforming San Diego's MSST-91109 into an MSRT. In 2017, the service officially changed MSST-91109 into MSRT-West so that there now exists an MSRT-West and the MSRT-East in Chesapeake.
The MSRTs maintain a ready alert force to support Coast Guard operational commanders and Department of Defense combatant commanders for short-notice emergent operations and planned security events. Examples of MSRT support include subject matter expertise for high-threat security incidents, foreign government law enforcement and security training, national special security events, and a variety of contingency and disaster relief operation support options, including force protection, robust tactical medicine capabilities, and forward reconnaissance and information gathering capabilities. Recent operations have included presidential inaugurations, boarding operations for U.S. Navy task forces, NATO summits and United Nations General Assemblies.
In 2007, the service stood-up the Deployable Operations Group (DOG) to oversee Deployable Specialized Forces (DSF), such as MSRTs, MSSTs, Port Security Units, National Strike Force teams, Regional Dive Locker personnel and Law Enforcement Detachments (LEDETs). Later, the service decommissioned the DOG and, in 2013, area commands re-assumed operational and tactical control of DSFs, such as the MSSTs and MSRTs.
Maritime Safety and Security Team members deployed to Houston with a punt boat during Hurricane Harvey rescue operations. U.S. Coast Guard photo.
The 2001 terrorist attacks reshaped the Coast Guard, including new homeland security units. The service's response to 9/11 demonstrated its flexibility and relevance to homeland security and rapid response requirements. Moreover, a variety of new units, like the MSSTs and MSRTs, emerged as part of the Coast Guard's greatest organizational transformation since World War II.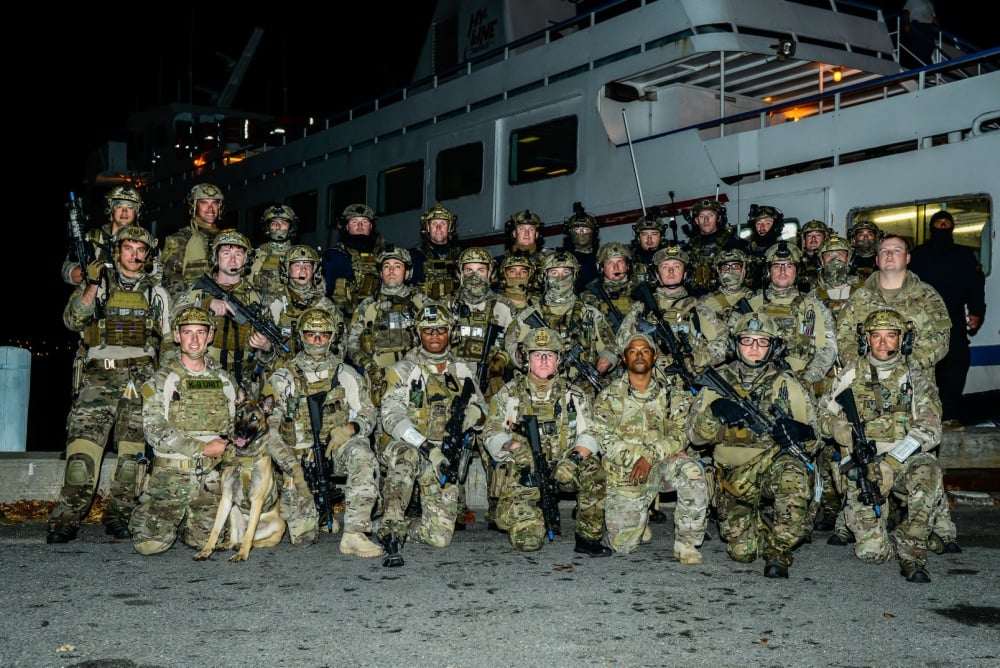 MSRT members during nighttime training operations, 2015 (USCG)
William H. Thiesen is the Coast Guard Atlantic Area historian.
The opinions expressed herein are the author's and not necessarily those of The Maritime Executive.