Report: Russian GPS Spoofing Threatens Safety of Navigation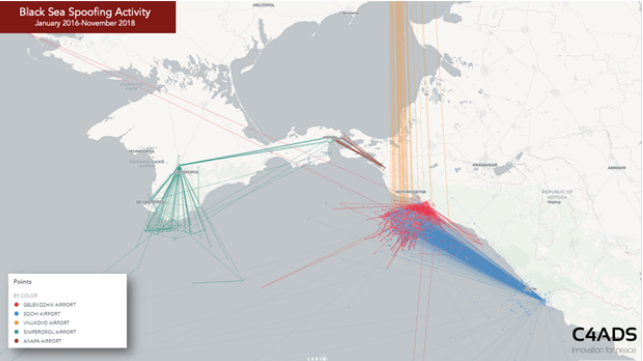 A new report by the non-profit analytic group C4ADS shows that Russian jamming and spoofing of GPS signals is far more extensive and frequent that previously thought.
The report - "Above Us Only Stars – Exposing GPS Spoofing in Russian and Syria" - outlines the discovery of almost 10,000 instances of spoofing detected over the course of two years impacting over 1,300 unique vessels. Ship locations ranged from the Mediterranean, Black Sea, and Gulf of Finland, to the waters off Vladivostok. While a majority of the vessels were in Russian territorial seas, a substantial number were in international waters.
The report also drew a strong correlation between the movements of Russian President Vladimir Putin and the spoofing events. This reinforces speculation among many that the impact on ships is merely a by-product of the Russian government trying to protect its VIPs from drones. Much of the spoofing has the effect of causing receivers to report their locations as at airports. Most drones are programmed at the factory to fly away from airports.
A form of spoofing sometimes called "smart jamming" was also detected and is discussed. This involves transmission of seemingly valid GPS signals that do not allow a receiver to calculate a location. This can cause many receivers to not function properly while also not reporting a fault.
Some of the incidents and phenomena discussed in the report were discovered by Professor Todd Humphreys of the University of Texas, Austin. Working with sensors on the International Space Station, he developed a methodology that allows disruption of GPS signals to be detected and reported in near-real time.
The Resilient Navigation and Timing Foundation also cooperated in preparation of the report. In 2017 the foundation revealed extensive spoofing activity in the Black Sea with ships reporting their locations via AIS at airports. As a result of this recent report, the foundation intends to raise safety of navigation concerns with US delegations to the International Maritime Organization and the International Telecommunications Union. The foundation has also approached the US government about establishing a more complete system for detecting and warning mariners about GPS disruptions world-wide.
A PDF copy of the full report may be found here.
Mr. Dana A. Goward is the President of the Resilient Navigation and Timing Foundation, a 501(c)3 scientific and educational charity supporting policies and systems to protect GPS/GNSS users.
The opinions expressed herein are the author's and not necessarily those of The Maritime Executive.