New Study: America Too Dependent On Chinese Ships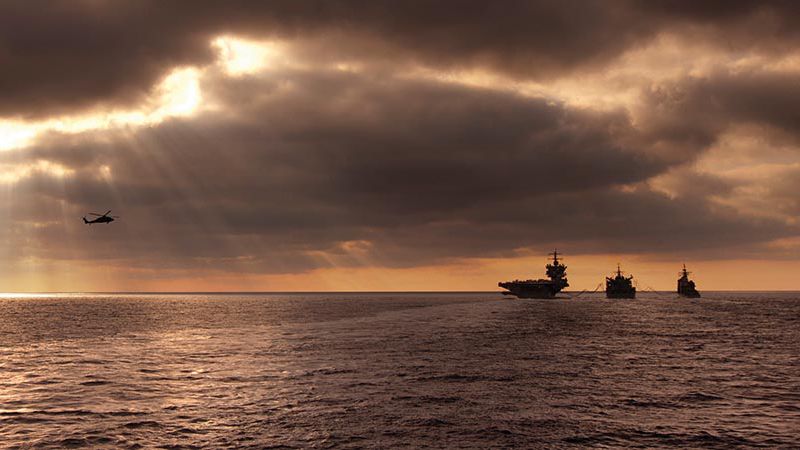 In future conflicts, America's merchant fleet could find itself outnumbered and outmaneuvered on the high seas, say the authors of a new paper on U.S. maritime security.
The paper, released November 19 and entitled "Sea Strangulation: How the United States Has Become Vulnerable to Chinese Maritime Coercion," highlights the defense risks of a reduced American merchant fleet and the need to improve its capability.
The authors – Captain Carl Schuster, former Director of Operations at the U.S. Joint Intelligence Center Pacific, and Dr. Patrick Bratton, Associate Professor of Political Science at Hawaii Pacific University – claim that "the United States has adopted an 'abandon ship' policy towards the crucial merchant maritime industry," and has let it shrink to its smallest size since the Spanish-American War.
Bratton and Schuster point to the gap in fleet size between the U.S. and China. "Only about 80 of the ships engaged in international trade across the world's oceans are U.S.-flag carriers," compared with a Chinese deep sea merchant fleet of 3,900 ships.
"China does not need to blockade foreign ports to cut off the flow of goods . . . Chinese authorities could do this by controlling the price of goods entering or leaving United States ports through manipulation of shipping rates or ocean carrier service." The authors describe this potential threat as "Sea Strangulation."
In the absence of a large U.S. merchant fleet, even allied nations' cargo ships might not be willing to fill the U.S.-China gap.
The five largest container shipowners are headquartered in nations with American mutual defense treaties, and these companies carry nearly a third of global volume by TEU. But if China or any other nation should create a naval blockade or "no-go zone" at sea, foreign-flagged vessels could choose to remain neutral and avoid danger, stranding American cargoes.
"Would foreign ship owners and crews take the risk of standing up to [another military power]?" ask the authors.
American allies have joined in military sealift efforts before; 22 percent of cargoes for the buildup to Operation Desert Storm went aboard foreign-flagged vessels of allied nations.
But foreign-flag carriage of military cargo has also created problems for American forces in the recent past.
In 1965, shipments of military supplies for Vietnam were held up for months due to neutrality issues. That year, Mexican government authorities ordered the Mexican-flagged merchant vessel El Mejicano to offload its Vietnam-bound American cargo. Mexico claimed neutrality, and it refused to let a vessel under its flag carry military supplies. But "loading the cargo on a Greek-flag ship did not solve the problem because the Greek crewmen also refused to sail the cargo to Vietnam," the authors say. In all, a total of seven ships in three months refused American cargoes bound for Vietnam.
As an example of the type of sealift capacity America might need in the future, the authors estimate that in a conflict in the South China Sea, the deployment of two carrier strike groups would require the shipment of 100,000 tons of ordinance and 300,000 tons of fuel in the first 30 days. The plan would require large sustained deliveries every day thereafter, transported over a distance of more than 6,000 nm.
They add that outlying American territories like Guam and Hawaii would be vulnerable to a blockade if American ships were not available to carry goods to them in time of war.
Bratton and Schuster conclude that the security of the supply chain for military operations and territorial protection requires a strong government commitment to the U.S.-flagged merchant fleet. They "recommend strengthening the Maritime Security Program and maintaining the Jones Act . . . an overdependence on flag of convenience carriers and ships belonging to China or other nations that may test the U.S., [and] could lead to hardship for those who live and serve under the flag of the United States."
Their study may be timely; Congress recently voted to increase Maritime Security Program funding for the support of militarily useful U.S. flagged vessels, and the bill awaits the President's signature.
Recent events in Australia illustrate the effects of limited government support for a domestic fleet. Since last year, the Australian-flagged fleet has lost three of five coastal tankers and one bulker to foreign competition. Some analysts estimate that if all of the current government's cabotage laws are enacted, the number of Australian merchant mariners will fall to less than 100 people.
The opinions expressed herein are the author's and not necessarily those of The Maritime Executive.