Inchcape: Trust in Transparency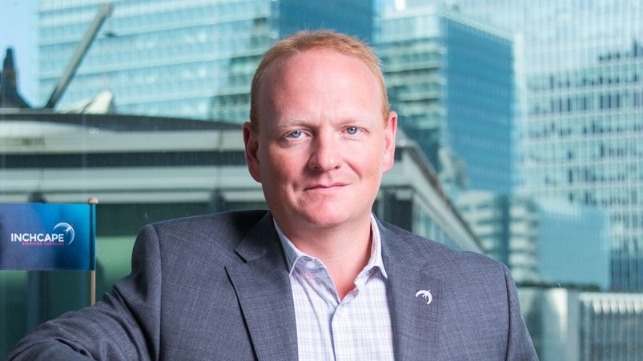 Inchcape Shipping Services is determined to bring transparency to the traditionally opaque world of ships agencies, combining its global presence with the power of digital technology to position itself as a trusted partner for maritime leaders. CEO Frank Olsen believes change is on its way.
"Put it like this," says Olsen. "If you're a leading shipping company that values compliance, responsible operations and optimal efficiency, why would you choose a ships agency that offered anything less than those same standards?"
Olsen, who assumed the CEO role at Inchcape last year, is talking about a phenomenon that he openly admits to being "puzzled" by: Why is about 80% of the ships agency market captured by small, local operations that focus on their home ports, rather than larger, more strictly controlled, international organizations?
It's not a question of attacking those smaller firms, he quickly clarifies, rather of pondering why the industry has not woken up to the very real need for stringent standards, governance and regulatory compliance on the ground in some of the locations where it's needed the most.
"Professional shipowners, operators and charterers need professional ships agencies," Olsen says. "I think as that realization dawns – and it's beginning now - it's going to transform this segment, delivering real benefits for customers. We're positioning to be at the vanguard of that change, providing added value through transparency and building complete trust with our partners. There's very interesting times ahead."
A history of service
Inchcape is a big fish in an ocean of smaller competitors.The firm, which can trace its routes back to Calcutta in 1847 (where the British East India Company was its first client), has over 300 offices, in 68 countries, covering around 2,500 ports. As such it can provide a vast array of services – ranging from full cargo agency, to dry-docking, crew logistics, financial management, and bunker calls – in around 85% of all global ports.
It employs 3000 of its own staff, while outsourcing selected services to carefully vetted suppliers worldwide. Everyone, Olsen says, knows what is expected of them, meaning clients know what to expect too – "people and services they can rely on."
Universal compliance
"Inchcape has developed a culture of very strict corporate governance, with an embedded, company wide compliance program that has been assessed and recognized by third parties as 'industry leading'. So when you deal with Inchcape, no matter where that be, you can expect the same degree of integrity and reliably high standards," Olsen says.
Olsen mentions a recent letter he received from a customer praising an employee in Nigeria who, when traveling with vessel officers away from port, was stopped by traffic police who demanded bribes.
"The customer was very impressed by the way our man handled the situation, with confidence, authority and a calm refusal to submit to the demands. The result was they went on their way without a facilitation payment," Olsen said. "Although this is the standard for us, wherever we are, it is not the same for everyone. Owners have to be aware of this. They should not expose themselves to the risks of corrupt practices."
Olsen says smaller, independent agencies are often used as there's a perception they know their local area and relevant suppliers and authorities better. But, he notes, Inchcape's huge network of local representatives are equally as familiar with their home ports, and they have the added advantage of adhering to uniformly high corporate standards.
"That," he says, "is a key distinction. But it's not the only one."
The digital difference
Inchcape will be represented at Nor-Shipping, taking place in Lillestrøm and Oslo, Norway, between the 4th and 7th of June. Here the firm will use the leading global maritime and ocean industry exhibition week to showcase itself as not only a prominent ships agency, but also an increasingly important player within the shipping value chain.
And digital technology is key. "The amount of data we collect, along with the 'eyes and ears' we have in ports across the globe, gives us a unique position to deliver meaningful intelligence to our customers," Olsen explains. "That ranges from dynamic operational data and market intelligence, to static port information and risk assessment, through to real time l performance benchmarking – all made instantly available through our digital dashboard, or integrated into client ERP systems."
As an example of the tangible benefits derived from this approach, Olsen refers to 'just in time' arrival, smarter schedule planning and cost avoidance.
"Shipowners who want to optimize their arrivals, adjusting speed and minimizing fuel consumption, and hence reducing emissions, need reliable information with regard to what's happening in port. We can deliver this through our digital channels and help them meet both commercial and regulatory requirements. We can also advise them on availability and quality of the fuel grades needed to achieve compliance with IMO 2020. That will be a key issue over the coming months."
In addition, Inchcape has also devised digital payment systems to ensure that all monies changing hands are fully tracked, accountable and, here's that word again, transparent.
"At the end of the day that doesn't just eliminate the risk of corruption," Olsen says. "It also enhances efficiency and optimizes cost control. For shipowners and operators in today's ultra-competitive business environments that is a must."
Unique platform
Inchcape believes Nor-Shipping will provide an ideal 'soapbox' for the firm to begin communicating to the 80% of the industry that are yet to switch to "a smoother, smarter and totally transparent" ships agency partner.
"There's nothing quite like Nor-Shipping," he says. "It brings together the maritime industry's key players in one place, for one week, giving us the opportunity to engage with them face-to-face and communicate these critical messages. In fact, it's such an important arena that we've actually taken the position of a lead sponsor for 2019, raising our profile and creating awareness for our unique offer."
Nor-Shipping 2019 takes place in Oslo and Lillestrøm, Norway, from 04 to 07 June 2019. Themed exhibition halls will focus on the Blue Economy, IT & Navigation, Safety & Rescue, Shipbuilding & Repair, Maritime Services & Logistics and Propulsion & Machinery. For more information, please visit http://www.nor-shipping.com.
The opinions expressed herein are the author's and not necessarily those of The Maritime Executive.