Royal Navy Shadows Russian Warships in English Channel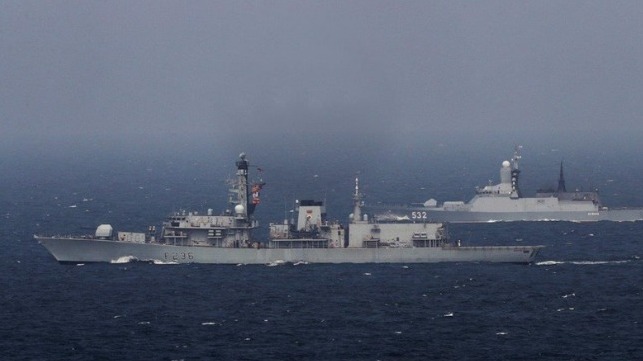 The Royal Navy's HMS Montrose recently shadowed two Russian warships in the approaches to the English Channel after they ventured out of the Baltic.
The Plymouth-based Type 23 frigate sailed up the Channel to meet with corvettes RFS Boikiy and Stoikiy as the Russian vessels left their base in the Baltic and entered the North Sea.
HMS Montrose worked alongside the Maritime and Coastguard Agency to track the two vessels as they maneuvered in some of the most congested waters in the world.
Montrose met the pair – both Steregushchiy-class corvettes – and monitored their progress off the Danish and Dutch coasts.
After crossing the bulk of the North Sea, the corvettes cut their speed and slowly proceeded towards the north Norfolk coast under the watchful eyes of the British frigate.
Montrose has recently emerged from a $50 million refit, followed by extensive trials and training, culminating in the successful firing of the UK's new state-of-art air defence system, Sea Ceptor.
For this mission, the frigate is also equipped with a new Fleet Air Arm Wildcat helicopter from 825 Naval Air Squadron, based at Yeovilton in Somerset. It was sent aloft to record images of the Stoikiy and Boikiy.
"Royal Navy warships are always prepared to respond to tasking at short notice, so when the call came, Montrose was ready for action," said Commander Conor O'Neill, Montrose's Commanding Officer. "The Royal Navy and Royal Air Force, with the support of our NATO allies, constantly monitor the seas and skies around the UK, and our operations are part of that 24/7 watch to ensure the UK stays safe and secure."
While Montrose followed the progress of the Russian ships, the RAF provided air support to watch over the operation.
The opinions expressed herein are the author's and not necessarily those of The Maritime Executive.