Wärtsilä Signs Scrubber Contract with Wilhelmsen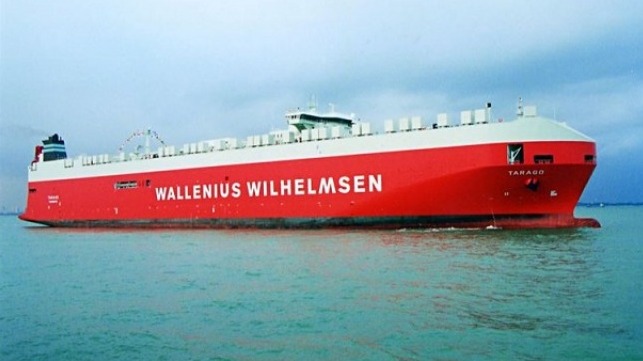 The technology group Wärtsilä and Norwegian Wilhelmsen Ship Management, a Wilhelmsen group company, have signed a five-year agreement covering the maintenance of exhaust gas cleaning systems installed in three vessels managed by Wilhelmsen Ship Management. The agreement ensures that the vessels are fully MARPOL compliant and can fulfill the IMO's new, stricter sulfur limits, coming into force on January 1, 2020.
All three vessels have a 25 MW Wärtsilä Hybrid Scrubber System, which has the flexibility to operate in both open and closed loop, using seawater to remove SOx from the exhaust gas. In closed loop mode additional reagent is used in combination with sea water.
The agreement between Wärtsilä and Wilhelmsen Ship Management was signed in December 2017. The services covered under this agreement include annual audits and safety tests to ensure ongoing MARPOL compliance, calibration of the Continuous Emission Monitoring System (CEMS) and water monitoring system as well as operational training courses for the vessels' crew.
"For Wilhelmsen Ship Management, operating sustainably and maintaining MARPOL compliance is absolutely crucial. This agreement with Wärtsilä ensures that we are doing it in a correct and documented way to fulfill authorities' requirements. Additionally, it allows us to perform long term cost predictability and channel more focus into critical ship management operations," says Jon Helge Ulstein, Vessel Manager at Wilhelmsen Ship Management.
"Wärtsilä's purpose is to enable sustainable societies with smart technologies. We want to build awareness of sustainability and provide solutions that help customers reduce or eliminate emissions. This agreement with Wilhelmsen Ship Management does exactly that by ensuring that the vessels comply with the strict sulfur limits set by IMO's standards. Additionally, the agreement provides Wilhelmsen Ship Management with predictability of the vessel maintenance costs," says Glenn Holid, Sales Manager at Wärtsilä Moss.
Wilhelmsen Ship Management is one of the world's largest third-party ship managers with a portfolio of more than 450 vessels and 9,200 active seafarers. Wilhelmsen Ship Management manages its portfolio from five offices worldwide and has a crewing network of 18 manning offices in 12 countries.
The International Convention for the Prevention of Pollution from Ships (MARPOL) is the main international convention covering prevention of pollution of the marine environment by ships from operational or accidental causes. As defined in IMO's regulations, the global limit for sulfur in fuel oil used by ships will be reduced from the current 3.50 percent m/m (mass by mass) to only 0.50 percent m/m on and after January 1, 2020.
The products and services herein described in this press release are not endorsed by The Maritime Executive.