Red Hook Terminals Renews Lease for Red Hook Container Terminal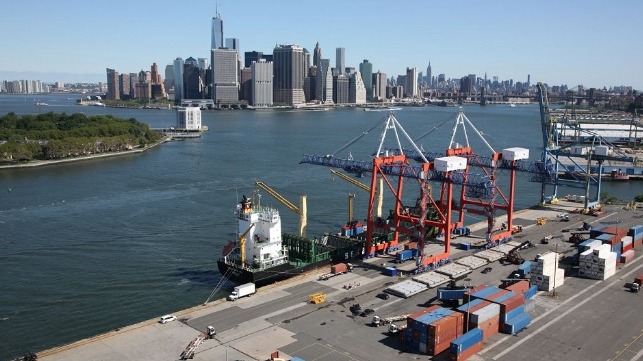 Red Hook Terminals (RHT), a multi-faceted Terminal, Operator, Stevedore and Cross Harbor Barge Operator, announced that a significant renewal agreement has been reached with the Port Authority of New York and New Jersey today for the management of the Red Hook Container Terminal. RHT will continue to manage the operation of the terminal for five years with an extension option for an additional 5-year term if both parties agree. The deal will provide uninterrupted service to RHT customers and New Yorkers who depend on cargo that comes through the terminal, while also maintaining maritime activity at New York City's last remaining deep sea container terminal port located East of the Hudson River.
"We are extremely proud of our work at the Red Hook Container Terminal in coordination with the Port Authority of New York and New Jersey, which should serve as a model for public/private partnerships and the continued revitalization of public maritime assets," said Mike Stamatis, President and CEO of RHT. "Thanks to the strategic vision of leadership at the Port Authority, as well as the support of local stakeholders, an agreement has been reached that will continue the terminal's growing economic contribution to the region."
"The Brooklyn waterfront has been a critical part of the Port Authority's maritime business for many decades, and we're pleased to have reached a short-term plan to keep the Red Hook facility in operation while we continue to analyze options for the future of maritime activities in Brooklyn," said Port Authority Port Director Molly Campbell. "We look forward to our continued partnership with Red Hook Terminals to support this enterprise.
RHT has managed the Red Hook Container Terminal since 2011. As part of this existing partnership, the Red Hook Container Terminal customer base has continued to diversify and grow, while the partnership between the terminal management and local elected officials and community groups have grown significantly. Red Hook Container Terminal occupies Piers 9-10 at the Port Authority Brooklyn Marine Terminal. Over 1,000 New Yorkers from diverse backgrounds currently hold accessible, good-paying jobs at the facility.
"The announcement of a five year renewal of the operating agreement for the Red Hook Container Facility is terrific news for Brooklyn's only container port and for the 700 workers and many businesses that rely on its operations," said Congressman Jerrold Nadler. "I have worked for years, along with Governor Cuomo, Congresswoman Nydia Velazquez, Councilman Carlos Menchaca, Councilman Brad Lander and Port Authority Executive Director Cotton, to ensure that shipping would continue in Brooklyn. Needless to say, Red Hook's container port is critical to Brooklyn's economy and to our region's overall shipping capacity. This facility is the only container port on the East Side of the Hudson River, which houses 2/3 of our region's population, and it must be preserved."
"I'm happy to see that Red Hook Terminals and Port Authority have reached an agreement for continued terminal operation over the next five to ten years," said Congresswoman Nydia M. Velázquez. "I also look forward to its expansion at South Brooklyn Marine Terminal. The more freight that can move by water and rail, the fewer vehicle miles traveled by trucks on our roads and bridges. This means less wear and tear on our road and highway infrastructure and a reduced environmental impact. By further developing the Marine Highway, we can create well-paying jobs and stimulate local economic growth. New York is surrounded by water and it only makes sense that we fully utilize this transportation asset."
"For many years people often forgot that New York is a city of islands with one of the world's great harbors," said State Senator Brian Kavanagh. "We've recently become more attuned to our waterways, as places for recreation, exploring nature, and ferry transportation. The growth of Red Hook Container Terminal demonstrates that they play another essential role, enabling us to move goods and materials into New York and distribute them throughout our region, supporting good jobs for working men and women. I congratulate Seaboard and the Port Authority on a successful decade of making Red Hook a key part of our city's working waterfront, and congratulate them on their agreement to extend the lease on this critical facility."
"Red Hook is a vital container port with a great future," said Assembly Member Felix Ortiz. "We have won the fight to keep the Red Hook Container Terminal open and more shipping and economic development lies ahead for this iconic waterfront. It may have taken a decade to reach this point, but I am proud to represent one of the nation's greatest harbors. Shipping is an environmentally sound way to move goods and materials. Let's continue to move forward."
"I am pleased that Red Hook Terminals and Port Authority have reached a long term lease renewal agreement for the Red Hook Container Terminal Operation," said Assembly Member Jo Anne Simon. "This agreement, along with the option for a five year extension, will provide stability and growth in goods and services, and jobs that New Yorkers need. I am glad that New York's last active cargo port has many years to look forward to."
"The Red Hook Container Terminal is an important asset on Brooklyn's working waterfront, employing hundreds of New Yorkers with good-paying jobs while contributing greatly to our regional economy," said Brooklyn Borough President Eric Adams. "Its continued operation, which has been a local priority for my administration, ensures that our city keeps moving, particularly in a direction that is more sustainable and less congested."
"Brooklyn is and will always remain a working waterfront; this lease renewal is proof of that," said City Council Member Carlos Menchaca. "Today we can thank the Port Authority of New York and New Jersey for listening to the working families of Brooklyn and doing the right thing. Red Hook Terminals has been an incredible neighbor. Here's to five more years of this important partnership."
"I'm pleased that a five year lease extension has been reached for the Red Hook Container Facility, which is not only great news for Brooklyn's economy, but also for the hundreds of workers and array of businesses that rely on the facility," said City Council Member Brad Lander. "Activating and preserving Brooklyn's ports is one of the best things we can do to get trucks off our region's roads, reduce congestion, insure more sustainable movement of goods, and create good jobs. A big thanks to Congress Members Nadler and Velazquez, Mayor de Blasio, Council Member Menchaca, Port Authority Executive Director Cotton, and Red Hook Terminals for their continued work to preserve shipping in Brooklyn."
RHT manages maritime operations in Red Hook, Brooklyn and is also involved in terminal and stevedoring operations in Port Newark, New Jersey, South Brooklyn, Baltimore, Maryland and Freeport, Texas. RHT is committed to sustaining the New York City-area's Marine Highway as a means to ship products to consumers and businesses without adding to traffic congestion or the city's carbon footprint. The Red Hook Container Terminal cross-harbor barge service already takes 30,000 trucks off the road per year and with the addition of operations in South Brooklyn, a total of 41,000 truck will be taken off the road per year.
The products and services herein described in this press release are not endorsed by The Maritime Executive.