MSC Cruises and Formula 1 Join Forces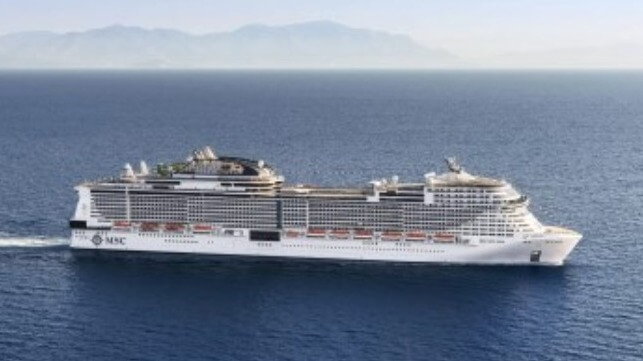 MSC Cruises and Formula 1® Join Forces at Grand Prix onboard the Formula 1® Ethihad Airwars Abu Dhabi Grand Prix 2023
• Sales open today for a range of packages and experiences on board MSC Virtuosa
• Packages include accommodations, race tickets and exclusive insider access
• Fans will enjoy a seamless experience that extends the thrills of the track to the cruise ship
• Full video can be found here

MSC Cruises enhanced its Global Partnership with Formula 1® today by unveiling a unique and high-end Grand Prix™ hospitality offering, promising an unrivaled race weekend experience at this year's FORMULA 1® ETIHAD AIRWAYS ABU DHABI GRAND PRIX™ happening November 24-26, 2023.
The modern and glamourous MSC Virtuosa will be docked at the Abu Dhabi Cruise Terminal throughout the race weekend, serving as a cruise ship hotel with stylish accommodations and a fully integrated Grand Prix™ experience to extend the trackside thrills of the season's final race to the ship. A range of available packages combines accommodation, race tickets, and exclusive insider access with F1® Experiences to make the race weekend unforgettable. Sales for the packages are now open and can be booked here.
Packages include cabin-only options for those who already have race tickets, along with cabin + Formula 1® Grandstand ticket options.
Fans searching for the ultimate Formula 1® weekend can choose the cabin + F1® Experience. This includes exclusive trackside activities, access to premium all-inclusive hospitality (Turn 1 Suite, Paddock Club and Legend), exclusive insider access like the Pit Lane Walk and a Guided Track Tour on a flatbed truck, Formula 1® personnel appearances, and more.
Guests will enjoy breakfast and evening meals, complimentary Wi-Fi, and transportation to and from the track—regardless of their chosen package. MSC Virtuosa's docking location at The Abu Dhabi Cruise is just a short drive from the circuit, allowing guests to get there and back easily.
MSC Virtuosa will be in port from November 23-27, allowing guests the opportunity to extend their race experience. The city center is also close by, making the ship a perfect base for the long weekend.
The thrills won't stop when fans leave the track, as the festive atmosphere continues aboard for guests with themed activities, parties and entertainment, along with a dedicated children's program.
On board the floating hotel, guests will enjoy an incredible array of amenities including restaurants and bars, two theatres, a shopping mall and Mediterranean-style promenade, a luxurious spa and fully equipped gym, five swimming pools, an interactive waterpark, extensive kids areas and much more.
In 2022, MSC Cruises signed a multi-year deal to become a Formula 1® Global Partner. This new collaboration further enriches the partnership, which the organizations established to drive change through their shared passion for excellence, sustainability and global entertainment.
Gianni Onorato, CEO MSC Cruises commented, "Through this exclusive hospitality offering we are bringing together the very best of two worlds–Formula 1® and MSC Cruises. By collaborating together, we are integrating the incredible atmosphere at the track with the incredible experience on board our ships to create an unrivalled and truly memorable race experience for fans of all ages."
Stefano Domenicali, President & CEO of Formula 1, said, "We are delighted to join forces with MSC Cruises and bring fans a unique and unparalleled hospitality experience during the season finale at the Abu Dhabi Grand Prix™. With luxurious accommodations, exclusive insider access, and the convenience of all-in-one race packages, we're confident that this partnership will make the race weekend truly unforgettable."
# # #

About MSC Virtuosa
MSC Virtuosa can carry up to 6,334 passengers and is designed to offer a dynamic and dazzling guest experience with innovative features and facilities. She is also one of the most environmentally-advanced ships in MSC Cruises' fleet. Some highlights include:
• Á la carte dining in the main restaurants, and an extensive buffet serving international dishes for more informal dining
• 5 specialty restaurants* including Butcher's Cut, an authentic American-style steakhouse, HOLA! Tacos & Cantina, and Kaito Sushi and Teppanyaki restaurant
• 21 bars and lounges including the innovative MSC Starship Club, featuring the world's first humanoid robotic bartender offering a futuristic bar and entertainment experience
• A 945-seater main theatre and the stunning Carousel Lounge at the aft of the ship with live productions every night
• A dedicated entertainment area with an MSC Formula Racer, bowling and XD cinema
• A 367-foot-long Mediterranean promenade lined with boutiques, bars and restaurants—topped with a breath-taking LED sky screen with animations throughout the day and night
• Award-winning kids facilities with individual spaces separated by age group, including LEGO® play areas and a Chicco baby club
• Five swimming pools—including an indoor pool with a retractable roof—and an interactive water park with three action-packed water slides
• The luxurious MSC Aurea Spa with a full range of treatments and state-of-the-art MSC Gym by Technogym®
• The MSC Yacht Club, a ship within a ship concept with chic private facilities and accommodations—including a panoramic lounge, gourmet restaurant and private pool and sun deck (available for Paddock Club and Legend packages)
*Specialty restaurants require an additional fee
Latest Environmental Technologies

Air Emissions: MSC Virtuosa features hybrid exhaust gas cleaning systems on all engines, achieving a 98% reduction of sulphur oxide (SOx) emissions. The ship is also equipped with selective catalytic reduction (SCR) systems that reduce nitrogen oxide (NOx) emissions by 90%. Available shore-to-ship power connectivity allows it to connect to local power grids at ports where this infrastructure is available. This minimizes engine use at berth, leading to a substantial emissions reduction when the ship is close to urban areas.
Wastewater: The ship features advanced wastewater treatment systems designed in line with the International Maritime Organization's MEPC 227(64) Resolution, with purification standards that are higher than many wastewater treatment facilities ashore. Ballast water treatment systems prevent the introduction of invasive species in the marine environment through ballast water discharges.

Protecting Marine Life: MSC Virtuosa is equipped with an underwater radiated noise management system, including hull and engine room designs that minimize acoustic sound impact. This reduces the ship's potential effects on marine fauna, most particularly on marine mammals in the surrounding waters.
Energy Efficiency: All of MSC Cruises' newbuilds incorporate a wide range of energy efficient equipment that help reduce and optimize engine use. These include smart ventilation and advanced air conditioning systems with automated energy recovery loops that redistribute heat and cold to reduce demand. The ships use LED lighting controlled by smart management systems to further enhance the energy saving profile. In partnership with the shipyards, all new builds are fitted with remote energy monitoring and analysis systems, allowing real-time shoreside support to optimize operational efficiency onboard.

About MSC Cruises
MSC Cruises is the world's third largest cruise brand as well as the market leader in Europe, South America, the Gulf region and Southern Africa. It is also the fastest growing global cruise brand with a strong presence in the Caribbean, North America and the Far East markets.
Headquartered in Geneva, Switzerland, MSC Cruises is one of the two brands that sit within the Cruise Division of MSC Group, the world's leading and privately held shipping and logistics conglomerate with over 300 years of maritime heritage. MSC Cruises – the contemporary brand - has a modern fleet of 21 vessels combined with a sizeable future global investment portfolio of new vessels, terminals and other assets. The fleet is projected to grow to 23 cruise ships by 2025, with options for six more vessel orders in place through 2030.
The products and services herein described in this press release are not endorsed by The Maritime Executive.