MITAGS Announces Subchapter M Conference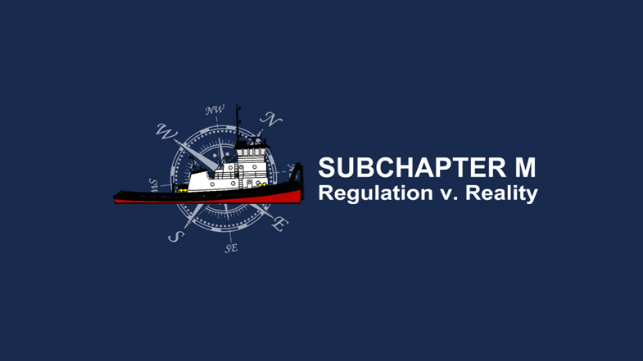 As Subchapter M completes its first year on the books, many towing vessel companies have found compliance a challenging course to navigate. While some have had smooth sailing, others worry about running aground. To help clarify the issues, and facilitate discussion, MITAGS-PMI, the Leader in Maritime Professional Training, Marine Pilot Licensing, Ship Simulation and Operational Research, is hosting a two-day conference at its Maritime Conference Center in Baltimore on September 26-27, 2019.
Nearly a year after its implementation, many lessons have been learned about the realities of the new towing vessel regulations, but many questions still remain. The Subchapter M Conference will bring together vessel operators, regulators, auditors and solution providers to compare notes about how they have navigated the regulations' rocks and shoals, and how they plan to stay on course moving forward.
Topics of discussion include:
Unanticipated consequences of the new rules

Compliance strategies and systems

Regulatory clarification

Training solutions

Compliance products

The road ahead

Confirmed speakers include:
Thomas A. Allegretti (Keynote)
President & CEO
American Waterways Operators


Paul Hite,

Subchapter M Operations Coordinator,

American Bureau of Shipping
U.S. Coast Guard
Towing Vessel National Center of Expertise
This is a must-attend event for anyone affected by Subchapter M. Mark your calendars today and make plans to attend this industry-leading symposium. For more information on the Subchapter M Conference, including sponsorships, vendor and speaking opportunities, contact Jon Kjaerulff at jkjaerulff@mates.org.
To stay current on the latest conference activities and to register for the event, visit: http://www.subchaptermconference.com
Located on the beautiful, green campus of the Maritime Institute of Technology and Graduate Studies (MITAGS) in Linthicum Heights, Maryland, the Maritime Conference Centeris just minutes from BWI Airport, AMTRAK and light rail stations. The courtesy shuttle offers pickups and drop-offs at the airport and rail stations.The Center provides 100,000 square feet of state-of-the-art meeting space,232 contemporary, well-equipped guest rooms and suites, a dining room and lounge, fitness room, recreation room and an indoor swimming pool for relaxation off the clock.
The products and services herein described in this press release are not endorsed by The Maritime Executive.