MDC Norway and Buoyancy Consultants Sign LNG Deal
Buoyancy Consultants and Engineering LLP (BCEL), a Goan design engineering firm focused on the marine engineering and offshore sector, signed an MOU with Marine Design Consulting Norway, a strategic move enabling both companies to leverage significant strengths from each others key capabilities in their sectors.
MDC's founders come with over three decades of experience in design, offshore and naval projects. Established in 2015, they have grown from strength to strength each year and made considerable headway in one of the largest growing sectors: LNG. Through their base in Norway, MDC has clients worldwide and has worked on projects with Skipskonsulent, Wartsila and Rolls-Royce Marine.
BCEL began operations in 2013 with founders who had worked on projects globally. After amassing work experience of over 10 years, they decided to move back to Goa and setup there. Over the last five years BCEL has made giant strides working with international clients in the marine and offshore industries. BCEL also has covered projects in over 12 locations worldwide. The worlds largest LNG field, Yamal LNG, is part of their experience portfolio.
With the worlds sulfur cap expected in 2020, low sulfur fuel anticipations from major oil companies are set to soar. Refineries globally are expected to deliver low sulfur fuel oil (LSFO) and ultra low sulfur fuel oil (ULSF) to meet this deadline. The shipping industry currently requires supply to the tune of six to eight million barrels of fuel per day. The IMO has set limits of 0.5 percent sulfur (mass by mass) in fuel. Certain shipping coastal areas have further set limits of 0.1 percent to combat emissions from ships docking at their ports.
As this comes into effect, oil prices are set to double. Options of LNG fuel will therefore raise in demand. LNG and its entire supply chain, from plants, vessels, bunkers and as marine fuel, is poised for global growth. In India alone, the forecast for LNG Markets by 2025 expects a CAGR of 21.6 percent. LNG is a commercially viable fuel for end users. The government is also focusing on gas based power plants during this time for cost effective and cleaner fuel solutions. Pipelines are scheduled to be laid across the country adding an extra 11,302 kilometers to the exiting 16,065 kilometers currently available.
LNG imports globally has quadrupled while countries supplying LNG have doubled. LNG trade in 2000 was 100 million tons. In 2017, it was 300 million tons.
"On a global level, the U.S., E.U. and Russia are the top three consumers for the LNG. Our cooperative agreement will give us a joint advantage in these countries," said BCEL's Chief Financial Officer and Co-Founder Pratibha Sawant.

While MDC and BCEL focus on the marine sector, opportunities in design and engineering services for LNG specifically offer tremendous potential. Through the MOU technology transfers between both companies will occur. This will allow for BCEL to undertake projects leveraging expertise from MDC's design and engineering capabilities. For the market in India as well, this puts BCEL at a strategic advantage.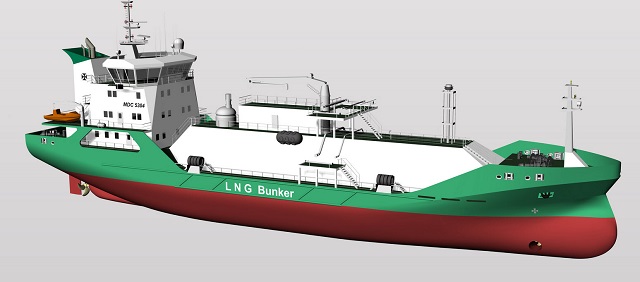 "Through our own in house design expertise and range of projects we were already working with clients nationally and internationally. This MOU will opens up a sector that has till now been limited to expertise in Europe," says Chief Technical Officer Ramniwas Mourya.
While consumption is high along the western hemisphere, developing economies and the Asia Pacific region has a lot of potential. "Through our collaboration with Buoyancy Consultants, our goal is to provide specialized and environmental friendly ship designs within segments such as LNG fueling and LNG bunkering vessels to the Indian market. We see potential in these segments in India. In this collaboration we will make use of our respective strengths, MDC will execute concept and basic design while Buoyancy Consultants will do the detail design," says MDC's Managing Director and Partner, Arne Magne Vik. "We are happy and excited to bring Norwegian maritime expertise to India through Buoyancy Consultants," he added.
Collaborations are seeing an upward trend in the world today as highly technical companies can offset setup costs, manpower efficiencies and other heavy capital expenditure. But most importantly Trust plays a huge role. Collaborations play a vital role in technology transfers, access to additional expertise and regional presence.
Even as the technological transfers between these two companies creates opportunities both have individual contributed to niches in the marine industry. MDC's LNG portfolio and recent offering in cutting CO2 emissions, along with developments in renewables and hydrogen fuel cells are some of its expertise areas. While BCEL has offshore engineering, drone surveys , laser scanning and its patented design the Lotus Hull From.
"We (Buoyancy Consultants) have a strong focus on technological advancement and staying ahead of the trends. Its part of our DNA. One of the key reasons we have seen tremendous growth is simply this. We welcome MDC as a partner and we are very optimistic of the developments to come," said Chief Executive Officer Prasad Prabhakar Sawant.
The products and services herein described in this press release are not endorsed by The Maritime Executive.