Cruise Industry Leaders Converge at Posidonia Sea Tourism Forum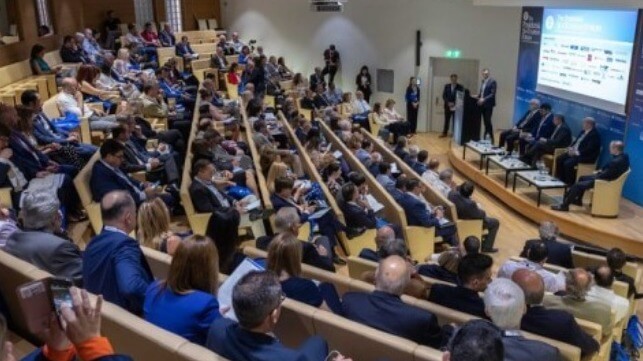 The 7th Posidonia Sea Tourism Forum will bring together top executives and industry leaders from the international cruise sector to discuss the challenges and potential of the industry and highlight the importance of the Southeast Mediterranean region and the need for new destinations to keep pace with the industry's rapid growth and emerging trends.
To be held on 25-26 April in Thessaloniki's Makedonia Palace Hotel, the biennial event comes at a time when the cruise industry is looking to fully recover from the pandemic and chart a path toward a sustainable future.The high-ranking participation of CLIA at the event is testament to the importance of the region and the need for new destinations and markets to emerge.
The forum is set to feature a high-profile line-up of speakers and the keynote speech will be delivered by Pierfrancesco Vago, CLIA Global Chair and Executive Chairman of MSC Cruises.
Wybcke Meier, CEO of TUI Cruises, who confirmed her presence at the event, emphasized the importance of sustainable cruising and integrated planning. " Cruising is a sustainable mode of travel. Together with the ports and destinations, we will continue to develop while considering everyone's interests - through integrated planning and better management of guest flows.
The speakers will focus on a number of key issues including destination delivery, the development and upgrade of port and tourism infrastructure to encourage and enable growth, the need to properly assess the economic benefit and environmental impact for a given destination and the capacity for shore-side electric power-connectivity, amongst others. They will also discuss the challenges of berth reservation and assignment, particularly in marquee ports with limited berthing ability.
With a line-up of top industry executives, the Posidonia Sea Tourism Forum is poised to generate significant interest and provide valuable insights for all participants.
Confirmed speakers include Manolis Alevropoulos, Vice President, Celebrity Cruises, Spiros Almpertis, VP Port Operations, Itinerary Planning and Fuel Management, Crystal Cruises, Figen Ayan, President of MedCruise, Michele Bosco, Manager Shore Excursions Mediterranean, North Africa & Black Sea, Holland America Group, Linden Coppell, Vice President Sustainability & ESG of MSC Cruises, Aziz Gungor, East Med.
Posidonia Exhibitions SA 4-6 Efplias Street, 185 37 Piraeus, Greece
Εκθ?σεις Ποσειδ?νια ΑΕ Ευπλο?ας 4-6, Τ.Κ. 185 37 Πειραι?ς
Tel: +30 210 4283608, E-mail: [email protected], Website: www.PosidoniaSeaTourism.com Ports Regional Director, Global Ports Holding PLC & General Manager,Kusadasi Cruise Port, GeorgeKoumpenas, President of Hellenic Cruise Ship Owners & Associated Members' Union, Ukko Metsola, Vice President, Government Relations, EMEA, Royal Caribbean Group, Marie-Caroline Laurent, Director General of CLIA Europe, Athanasios Liagkos, Executive Chairman of the BoD & Managing Director, ThPA SA, Minas Papadakis, Chief Executive Officer, Heraklion Port Authority; Theodora Riga, Chief Commercial Officer & Strategic Communications Director, ThPA SA, Mark Robinson, Senior Vice President Cruise Operations, Scenic Luxury Cruises and Tours, Chris Theophilides, CEO, Celestyal Cruises, Constantine Venetopoulos, Director of Communications & PR, Variety Cruises, and Yu Zenggang, Chairman, Piraeus Port Authority SA.
The event promises to be an opportunity for the cruise industry to come together and find solutions for the sector's challenges. Theophilides, Celestyal Cruises, commented: "We are delighted to participate in this year's Posidonia Sea Tourism Forum, particularly as it takes place in our homeport of Thessaloniki. This up-and-coming city has plenty to offer visitors in the way of history, culture, and unrivaled gastronomy. As Greece and the Eastern Mediterranean are our home, we look forward to constructive dialogue between the authorities and cruise companies to ensure sustainable development within the area, which will benefit both the national and local economies."
Almpertis, Crystal Cruises, said: "I am very happy to participate in Posidonia Sea Tourism Forum, which is the key event for cruise and passenger shipping in Greece, the Eastern Med, and the Black Sea. We can gain an advantage by meeting great leaders from all sectors of the cruise industry, such as owners, Governmental authorities, ports and port agents. We can explore ways of developing the importance of every brand service level and what the expectation is."
Bosco, Holland America Group, added: "I expect to meet and reconnect with international industry leaders and authorities and possibly tie new business relations. Furthermore, I look forward to discussing topics and challenges of common interest and learning about recent ship industry innovations. Meeting professionals from every sea tourism sector, interchanging viewpoints and new ideas is beneficial to everyone's business and very awarding."
CLIA Europe highlights the importance of the event as it is organizing a session titled 'Pathways to NetZero' to offer practical examples of implementation and a guide through the maze to net zero. The session will cover topics ranging from decarbonization, port infrastructure, and safety requirements to the Poseidon principles. The imperative need to decarbonize is a challenge faced by the entire maritime sector, and the cruise industry has stated its commitment to pursuing net zero carbon cruising by 2050. The session will explore the pathways available to achieve net zero and the challenges that must be overcome. The three pillars of environment, social, and governance (ESG) offer a framework to measure and understand how sustainably an organization is operating. The session will provide insights on how these principles can be put into practice in the cruise industry.
The Posidonia Sea Tourism Forum will also host the 'YES to SEApping Forum 2023' to reach the younger generation in Thessaloniki. The forum aims to inform young people about the evolving Blue Economy by covering the shipping and sea tourism industries. The forum has invited representatives.
The products and services herein described in this press release are not endorsed by The Maritime Executive.