Wreck of SS Iron Crown Found After 77 Years
After being lost for 77 years, an Australian freighter sunk by a Japanese submarine during World War II has been located by maritime archaeologists using CSIRO research vessel Investigator.
The SS Iron Crown, a 100-meter ore freighter, was sunk by a Japanese submarine on June 4, 1942 while sailing through Bass Strait with a cargo of manganese ore. The heavily loaded freighter was hit by a torpedo from the submarine and sank within 60 seconds.
Peter Harvey, a maritime archaeologist with Heritage Victoria, said: "The Iron Crown is historically significant as one of only four World War II shipwrecks in Victorian waters and is the only ship to have been torpedoed by a submarine in Victorian waters. There were 43 crew from the Australian Merchant Navy on board the ship, and 38 lost their lives in the attack."
Iron Crown was located using multi-beam sonar equipment and a special drop camera 100 kilometers off the Victorian coastline south of the border with New South Wales. The wreck appears to be relatively intact and is sitting upright on the seafloor in about 700 meters of water.
Imagery from the camera survey clearly shows the intact bow of the ship, with railings, anchor chains and both anchors still in position, as well as other structures on the deck.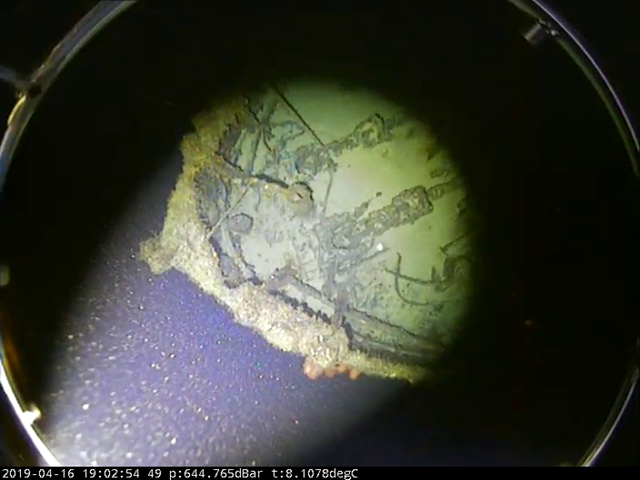 Drop camera: Bow with anchor chains. ©CSIRO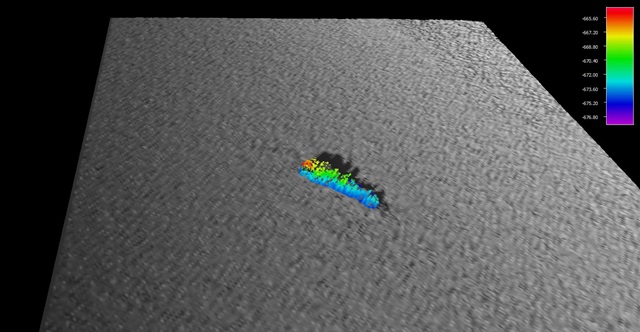 Bathymetric map showing Iron Crown on sea floor, bow on right. ©CSIRO
Drop camera used to investigate wreck. ©CSIRO