World's Largest Liquefied Ethylene Carrier Named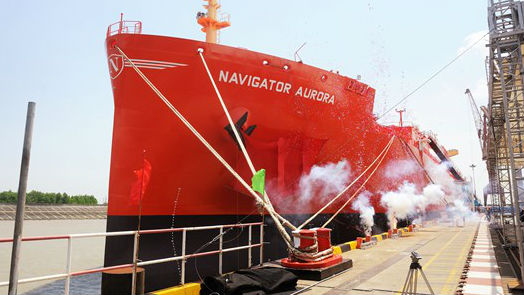 The world's largest liquefied ethylene gas carrier has been named Navigator Aurora ahead of its delivery to London-based Navigator Gas later this month.
The 180-meter (590 foot) dual-fuel vessel is being built by Jiangnan Shipyard in Shanghai. It has a capacity of 37,500 cubic meters and will transport ethane from the Marcus Hook refinery in Pennsylvania to Borealis' refining facilities in Stenungsund, Sweden. Borealis produces polyolefins, base chemicals and fertilizers and has signed a contract with Navigator Gas for the long-term time charter of the vessel. Commercial operations are scheduled to begin in the fourth quarter of 2016.
In the meantime, the currently ongoing, multi-million investment in the cracker upgrade and the construction of an ethane storage tank in Borealis' location in Stenungsund is proceeding according to plan. The commissioning of a new unloading and storage facility will begin in the fourth quarter of 2016.
NavGas Newbuilds
Since the late 1990s, Navigator Gas has placed a series of orders for ethylene and LNG carriers with Jiangnan Shipyard, including five 22,000-cubic-meter ethylene carriers which were the world's largest at the time.
Over the past few years, Navigator Gas has ordered four 21,000-cubic-meter ethylene carriers, five 22,000-cubic-meter LPG carriers and four 37,500-cubic-meter ethylene vessels. China Daily reports that the Navigator Aurora is one of the four ethylene carriers priced at $80 million each. Another two will be delivered by the end of this year, with the last vessel scheduled for delivery next year.
Navigator Aurora was designed by the shipyard and the contract won in the face of tough competition from South Korean yards.
China Retains Newbuilding Lead
The yard's success contrasts with other Chinese years. The nation suffered a drop in orders of 47.9 percent in 2015. However, China still retained the lead globally in new orders received in 2015.
China's shipyard consolidation has meant that the country's top 10 shipyards have built 53.4 percent of the nation's total orders, reports China Daily, and they have won 70.6 percent of the country's new orders.