World's Strangest Research Vessel Heads for Scrapyard After 60 Years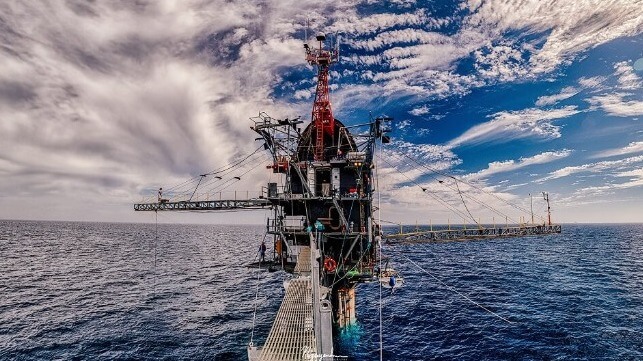 The Scripps Instition of Oceanography's innovative Floating Instrument Platform (FLIP) has been towed off into the sunset for the last time. It may well have been the strangest, most recognizable research vessel ever built - and its users remember that it was exceptionally effective.
For more than 50 years, FLIP provided a stable research station at sea for Scripps' scientists and their colleagues from around the world. The one-of-a-kind vessel (technically a platform) could be partially flooded to sink the stern and change the orientation of its buoyancy. In less than an hour, it could transition seamlessly from a horizontal barge for transit into a vertical spar platform for stationary operation. To refloat from vertical to horizontal mode, the crew would pump out the ballast tanks with compressed air, and the vessel's stern would rise back up to the surface.
By design, FLIP was minimally affected by ocean swells, and it provided scientists an extra-stable, extra-quiet platform for sensitive experiments. Physical oceanographic research conducted aboard FLIP produced "exquisite" data, according to ONR Ocean Sensing Battlespace Department director Dr. Tom Drake, and established a "gold standard" for ocean modeling to support U.S. Navy research objectives.
"It was like being on land except in the middle of the ocean. It was just glorious," remembered Scripps oceanographer John Hildebrand, who used the platform's stability and relative silence to study marine mammal sounds. "There were things you could do with it that you couldn't do any other way."
Planning for FLIP's creation began at the National Research Council Committee on Oceanography in the late 1950s, according to Scripps scientist and longtime FLIP researcher Rob Pinkel. The committee's list of top priorities included a deep-diving submersible - the famous Alvin - and FLIP.
The unique spar platform was designed and built by Scripps, and it launched in 1962. Most of its core mission systems were designed to rotate through 90 degrees, from the air compressors to the galley cabinets. The diesel generators were mounted on gimbals and connected to their fuel and exhaust piping using flexible hoses.
"FLIP set the stage for thinking big about what could be done with technology to enable new scientific discoveries," said Scripps' Marine Physical Laboratory (MPL) Director Eric Terrill. "It was built in an era of risk-taking; a spirit that we try to embrace to this day and encourage in the next generation of seagoing scientists."
The venerable spar vessel has been towed off for the last time, but a piece of it remains at Scripps. The institution has arranged for one of FLIP's booms to be removed and mounted onto a pier, where it will continue to be used to deploy instruments into the water.