World's Rarest Fish ? More Found!
A team of divers from the Institute for Marine and Antarctic Studies (IMAS) and the citizen science project Reef Life Survey (RLS) have discovered a new population of what is believed to be the world's rarest fish.
Red handfish (Thymichthys politus) are found only off south-east Tasmania, Australia, and until last week just one remaining population of around 20-40 individuals had been identified. The new site, which will not be disclosed until management options can be discussed, also contains an estimated 20-40 individuals and is a number of kilometers away from the previously known population in Frederick Henry Bay.
Each site covers just about the size of two tennis courts, as the range of the handfish is limited by the fact it walks on the seafloor instead of swimming.
The new population was identified after a member of the public reported seeing an individual handfish, with a team of seven divers spending two days searching the area. IMAS Technical Officer Antonia Cooper spotted the first fish just as the team was about to give up.
IMAS scientist Dr Rick Stuart-Smith, who co-founded Reef Life Survey in 2007 with Professor Graham Edgar to collect data on global marine life, said: "Finding this second population is a huge relief as it effectively doubles how many we think are left on the planet. We've already learned a lot from finding this second population because their habitat isn't identical to that of the first population, so we can take some heart from knowing red handfish are not as critically dependent on that particular set of local conditions."
Stuart-Smith said that Tasmania is a global hotspot for this family of rare and endangered species.
IMAS and RLS will work with government and other organizations to help inform management options for the handfish sites.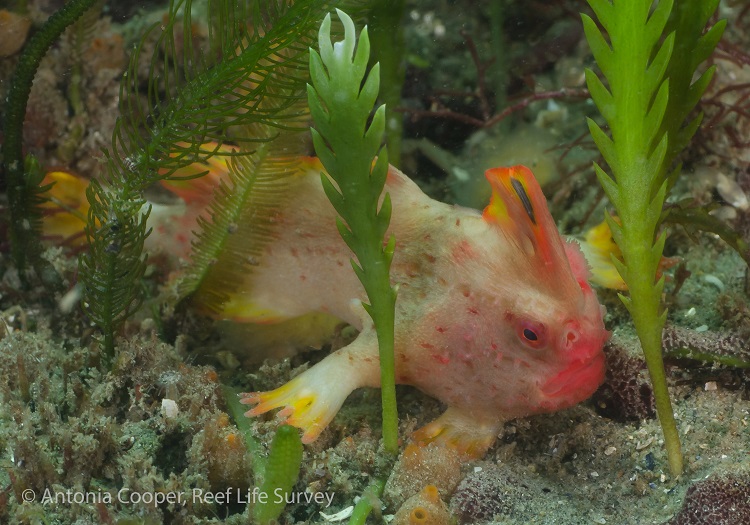 Images: Antonia Cooper