World's First Deepsea Mining Support Vessel Launched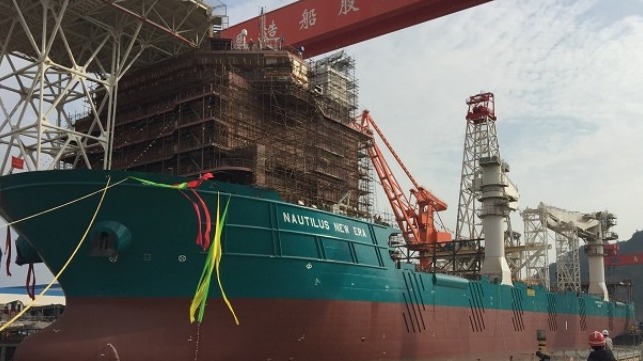 Nautilus Minerals' production support vessel Nautilus New Era was launched at the Mawei shipyard in China on Thursday. The dynamically-positioned vessel will be used by Nautilus and its partner Eda Kopa (Solwara) Limited to undertake deepsea mining operations at the Solwara 1 Project site, in the Bismarck Sea off Papua New Guinea.
Solwara 1 is expected to be the world's first commercial high-grade seafloor copper-gold mine project. The deposits at Solwara 1 are associated with high grade polymetallic sulfides that are rich in copper and gold. Based on drilling results, indicated resources are 1,030,000 tons of ore containing 7.2 percent copper. The average copper grade today for land-based copper mines is 0.6 percent, says Nautilus. In addition, gold grades of well over 20 g/ton have been recorded at Solwara 1, and zinc and silver will also be extracted.
Mike Johnston, Nautilus' CEO commented at the launch, "We believe that mining the seafloor for much needed minerals will be a more cost effective and environmentally friendly source of obtaining high grade copper, gold and silver. Nautilus further differentiates itself from others by having a "first-mover advantage" which is protected by intellectual property and 20 patents. Once our new vessel is delivered, and subject to final funding, mining operations at 1,600-meter water depth is anticipated to commence in late 2019."
The Nautilus New Era will have accommodation for up to 180 people and will generate approximately 31MW of power. Delivery is scheduled for March 31, 2019.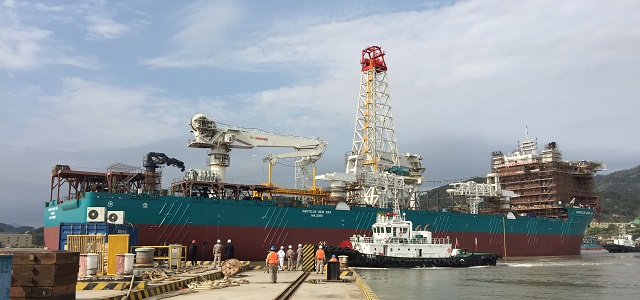 Nautilus Minerals successfully completed submerged trials of its seafloor production tools in Papua New Guinea in February this year. Each of the machines, a bulk cutter, an auxiliary cutter and a collection machine, weighs around 250 tons. All three will operate at depths of around 1,500 meters (4,900 feet) in temperatures of 2.6 degrees Celsius. The machines are designed to break rock with much greater force than land machines and must operate at low temperatures to avoid overheating.
The auxiliary cutter prepares the rugged seabed for the more powerful bulk cutter. These two tools gather the excavated material; the third, the collecting machine, will collect the cut material by drawing it in as seawater slurry with internal pumps and pushing it through a flexible pipe to the subsea pump and on to the support vessel above via the riser and lifting system.

The machines will be remotely controlled from Nautilus New Era.
Earlier this year, the Government of Papua New Guinea granted a two year exploration license to Nautilus. Work done in the area by the company has identified numerous exploration targets with
similar geology to the deposits found at Solwara 1. The oceans have significant potential to provide the key minerals (copper, gold, silver, zinc, nickel, cobalt and manganese) needed by the world as it transitions to a low carbon future based on electric vehicles and batteries, says Nautilus.