Windstar Cuts First Steel on First Ship Lengthening Project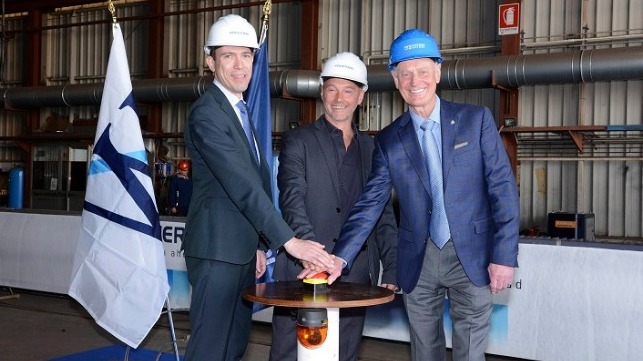 First steel was cut on the first of three Windstar Cruises' vessels being rebuilt by Fincantieri at its shipyard in Trieste, Italy, this week.
The vessels are part of Windstar's $250 Million Star Plus Initiative - claimed to be the most complex and comprehensive small ship lengthening, engine replacement and renovation project undertaken in cruising. Windstar will take half of its fleet – Star Breeze, Star Legend and Star Pride – and renovate each ship in succession. The work on the first of the three ships begins on Star Breeze in October 2019 and shall end with the departure of the Star Pride from the yard in November 2020.
The steel cutting marks the beginning of true project construction. The ships will be cut in half to allow the installation of a new stepped mid-body section that will lengthen each vessel by approximately 25 meters (82 feet). The total capacity of the expanded ships will be 312 guests, and additional staff will be hired in order to maintain the line's 1.5 to one guest-to-service staff ratio.
The new sections will be built in Trieste and then transported south by barge to the Fincantieri yard in Palermo, Sicily, Italy, to be inserted into the ships, along with the new engines. The timeline requires the new sections to be fabricated from April through September, shipped in October, and then inserted into Star Breeze so that she can be completed in time for her arrival for re-inaugural activities at the PortMiami on March 19, 2020.
The Johnson Studio at Cooper Carry in New York, led by Ray Chung, Director of Design, has been tasked with creating modern and inviting design aesthetics for the new public spaces and 50 new suites. In addition to the suites, there will be a new pool area, restaurants, a spa and wellness center, and enhanced "living room deck space."