Wind Farm Installation Platform Capsizes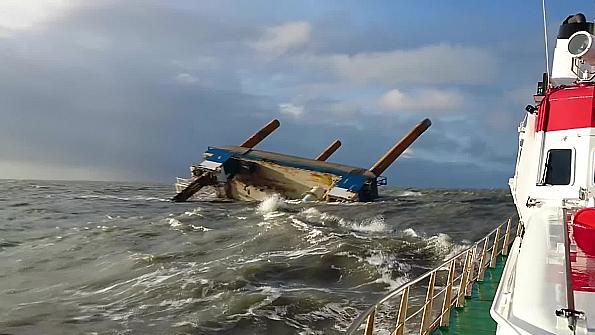 The wind turbine installation platform Sea Worker, aground at Hvide Sande, Denmark for seven days, has capsized due to heavy weather.
She grounded last Wednesday following the parting of her tow line in rough conditions; her crew of 15 were evacuated before she went onto the beach.
The seas since her grounding have been too rough to permit a salvage operation, Danish media report. Strong winds overnight contributed to her capsize.
Pollution risk is now the largest potential problem with the wreck, officials say, but there is as of yet no indication of any leakage. She carries about 40,000 to 50,000 gallons of diesel for her generators.
"We have several ships in the area and . . . had a German [plane] fly over. There is no trace of a possible oil spill - but there is some debris. We [are keeping] an eye on the environmental situation," said a spokesman at Denmark's Defense Operation Center.
Conditions are reportedly still unsuitable for a salvage operation, and the platform's owner did not give a timeline for removal and/or remediation. "It is a major task that awaits us - and it is too early to say when we can conduct a proper recovery," said Jens Frederik Hansen, CEO of platform operator A2SEA.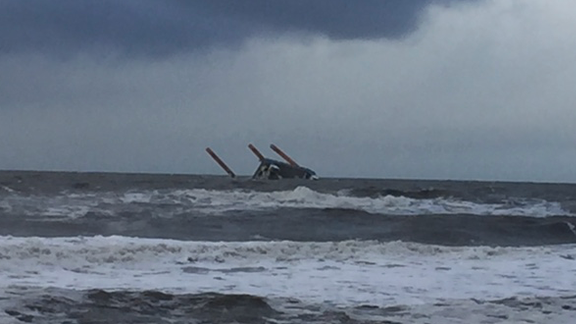 Image courtesy Poul Henning Kristensen
Police and eyewitnesses reported that visitors to the beach near the site of the Sea Worker have been illegally removing flotsam. Authorities said that there were items related to the grounding along a stretch of beach about seven kilometers north from Nymindegab, and warned that any removals were not lawful.
"I saw that people were walking and paddling in the wreck area and sticking things in [their] pockets. It is wrong. It is the property of others," said bystander Poul Henning Kristensen.