WHOI Research Ship Rescues 93 Egyptians at Sea
The research vessel Atlantis, operated by Woods Hole Oceanographic Institution (WHOI), rescued 93 Egyptians aboard a disabled fishing boat in the Mediterranean Sea late Friday night (Nov. 25).
Atlantis was commencing an oceanographic research expedition, steaming toward its first study site, when it was diverted by a mayday call at 9 p.m. from a fishing boat that was relayed to all nearby ships by the Greek Coast Guard. Atlantis responded to the call and began the rescue, coordinating with the Greek Coast Guard and the Rescue Coordination Center.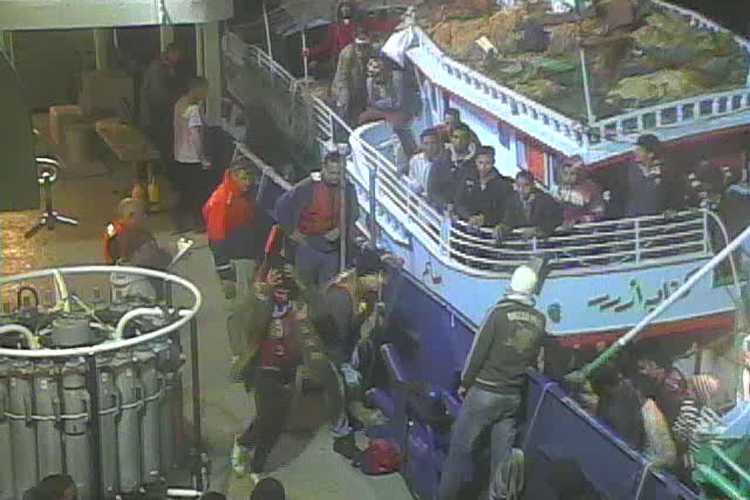 PHOTO: Ninety-three men boarded the research vessel Atlantis one-by-one. After they had all left their small fishing trawler, R/V Atlantis quickly moved away from the foundering boat. (Photo courtesy Woods Hole Oceanographic Institution)
Following standard security procedures, Atlantis Captain A.D. Colburn III raised the ship's U.S. Coast Guard Maritime Security Level from I to II and took protective measures to secure non-crew members inside the vessel, locking all exterior hatches and portholes before boarding the Egyptians.
By midnight, all 93 men were aboard the deck of Atlantis, a ship that had 50 crew, technicians, and scientists aboard. The fishing boat was abandoned with its lights and power on, its position radioed to the Greek Coast Guard.
The Atlantis crew provided blankets, pillows, and clothing, including dry socks for the Egyptians, who had been standing in water aboard their boat and were cold, hungry, and dehydrated. Atlantis's cook gave them loaves of bread and other food. Crew members stayed on deck with the Egyptians through the night, as Atlantis diverted 88 miles to the Greek port of Kalamata.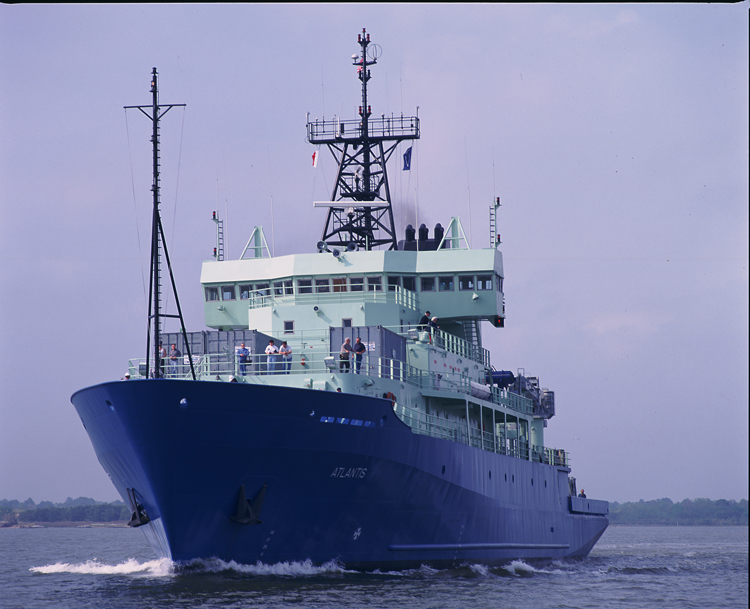 PHOTO: The 274-foot (83 meter) Atlantis, one of the nation's newest research vessels, is specially outfitted for the vehicles of the National Deep Submergence Facility. (Photo courtesy Woods Hole Oceanographic Institution)
Atlantis arrived in Kalamata at 8 a.m. Saturday. The Egyptians disembarked and were processed by Greek officials. After Captain Colburn gave his statement to authorities, Atlantis departed Kalamata at 10:30 a.m. to return to its research mission Sunday.
In a statement to "all hands" aboard Atlantis, Captain Colburn wrote: "On the behalf of WHOI, I would like to commend you for your efforts during the rescue of 93 persons on the fishing boat last night. Foremost on our minds was the safety of the persons needing rescue and also the safety of all aboard Atlantis. We all can be proud that we did our duty as seafarers. It was a long and satisfying night, knowing we helped others in need. Now let's concentrate on our science mission."
Source: WHOI