When Will the New Panama Canal Affect East Coast Ports?
The Panama Canal expansion is set to open soon with an inaugural ceremony set for June 26. While it will create a new route for larger ships to transit between the Atlantic and Pacific, logistics experts disagree on its immediate effects for U.S. East Coast and Gulf Coast ports – many of which have invested heavily in dredging and facilities upgrades to accommodate an expected increase in traffic.
At a panel at the Journal of Commerce's TPM Conference (covered by JOC), Dean Tracy of consultants Global Integrated Services suggested that "most importers will not switch from Suez to Panama" for the Asia-USEC routes due to insufficient demand. "Rates are so low today to West Coast that I don't know where they will find incentive to switch to Panama," he said. Dan Smith, principal in the Tioga Group, agreed that the East Coast "ports won't fill up right away . . . the [beneficial cargo owners] will wait and see how it works." He also believes that rail services are highly motivated to act to keep their market share, and will be willing to cut their prices for West Coast-to-inland transportation in order to keep all-water services at bay.
Others cite the limitations of the Bayonne Bridge on the approach to Port of NY & NJ: "New York is one of the main gateways to the Midwest and eastern Canada," said Angel Mavares, head of marine operations for the Americas at Maersk. "It's a major obstacle if the largest market on the East Coast doesn't have the scale to handle larger ships." Some ports are ready to go – for example, PortMiami, which has spent $1 billion on dredging and other improvements – but carriers may wait to deploy New Panama Canal-sized vessels to East Coast strings until the bridge is raised, expected late next year. John Wheeler, VP-carrier sales for the South Carolina Ports Authority, expects carriers to deploy larger ships at that point. "In 2017, when the Bayonne Bridge is raised, you will see 10,000- to 12,000-TEU ships," he said.
However, some ports expect results even sooner. The Port of Houston has already seen growth in container volume in the range of 10 percent annually for five years; the authority's senior director of trade development, John Moseley, says that forecasts for ever-rising demand have already prompted 2M partners Maersk and MSC to announce an additional trans-Panama-Canal string (T18 / Lonestar Express) calling at Houston and other Gulf Coast ports. "We anticipate these services to also upsize [to larger, New Panamax vessels] as demand continues to be strong and there is a lot of market share to gain," he says.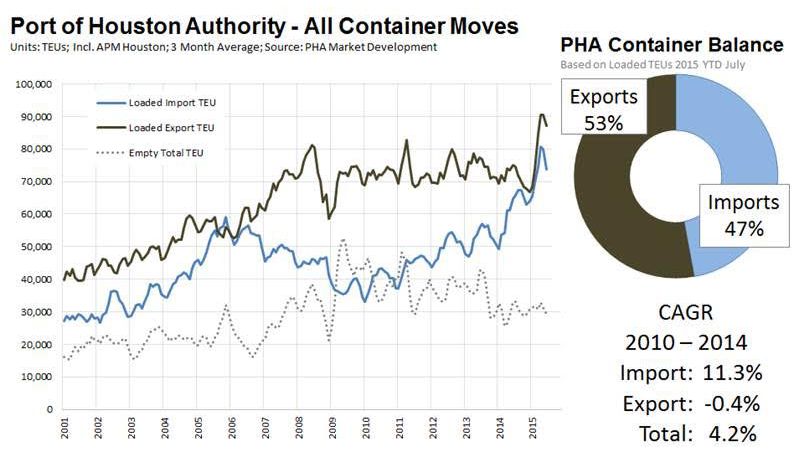 In addition to import volume – the common focus of discussion for the Canal's effects on U.S. ports so far –Moseley believes that the expected uptick in petrochemical exports from Gulf Coast ports is already influencing container lines' decisions for Canal routes. The T18 string was created in part to meet export demand, he says, as "carriers search for balanced markets, port calls [where] they can come in full and leave full." The Port of Houston expects 500,000 TEU of polyethylene resin exports next year –double the current volume, and so much that supply chain experts say there may be a local shortage of containers to put it all in. A significant fraction of the resins will go to Asia, so vessels transiting the canal with import containers for Texas can expect plenty of return-trip cargo – shifting the calculations for carriers.
Whether the new canal will have an immediate effect remains to be seen, but other ports also say that they are seeing volume gains now, even before its opening, and that they're ready for new service strings and bigger vessels.
"Florida [ports are] already seeing increased volumes due to shippers and businesses wanting to diversify between the West and East Coasts, and we are already servicing the larger ships, just not fully-laden," said
Doug Wheeler, president and CEO of the Florida Ports Council. He believes that larger volume from the New Panama Canal will lower costs and create value for shippers, and notes Florida's readiness, citing the "historical infrastructure investments in facilities and connectivity [it has] made over the past six years."