Watch Officer From Lost Norwegian Frigate Sentenced to Probation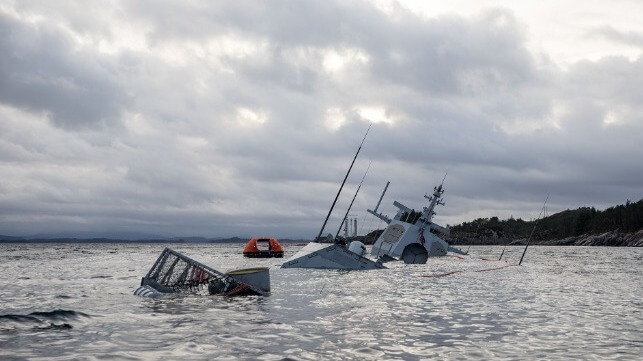 The watch officer aboard the frigate Helge Ingstad on the fateful night of her collision with a tanker has been sentenced to 60 days probation after a civilian criminal trial - a rarity for a military officer acting in the line of duty.
The Ingstad collided head-on with the tanker Sola TS off the Sture oil terminal in Norway's Hjeltefjord on November 8, 2018. Despite attempts to keep her afloat, she gradually sank on a rocky, sloping seabed near the terminal. All crew safely escaped, and no major injuries were reported, but the ship had to be scrapped.
A report from Norway's Accident Investigation Board found that a significant share of the fault for the collision lay with the Ingstad's bridge team, which believed that the oncoming tanker was a fixed object. Despite extensive attempts at communication between the tanker, the VTS center and the Ingstad, the frigate's bridge team did not attempt to alter course until it was too late.
Norwegian prosecutors brought several cases in connection with the casualty, but all were dropped save one: a criminal charge of negligence levied against the officer of the watch aboard Helge Ingstad, a relatively inexperienced young officer with just eight months of training.
"The defendant could and should have acted differently to prevent the collision," prosecutor Magne Kvamme Sylta told NRK at the outset of the trial.
The prosecution sought a 120-day jail sentence and two years of probation for the officer. The court decided to convict him, but handed down a lighter sentence of 60 days of probation.
The officer's defense team - and outside critics of the case - have argued that he should never have been allowed to run a navigational watch given his limited training.
"This collision would never have occurred if a more experienced duty chief had been on the bridge that night," former training officer Cato Rasmussen told NRK.
The civilian charges would not likely have occurred in other nations. Most militaries maintain legal jurisdiction over their own personnel for errors and omissions occuring on duty, and guard this prerogative closely. For the U.S. military, maintaining legal jurisdiction over U.S. servicemembers is so important that it is written into visiting-forces agreements with foreign nations.
The new precedent of a civilian prosecutorial intervention into a military justice case has strained civil-military relations in Norway; the head of the Norwegian Navy, Rune Andersen, said during the trial that his branch of the armed forces will have to think carefully about how much it will cooperate with the Norwegian police going forward.
"When the trial is over, we have to ask ourselves whether in the future we can be so open and self-examining if it ends with punishment," he told the court.