Wärtsilä's Radical Derating of 2-Stroke Engines Extends CII Compliance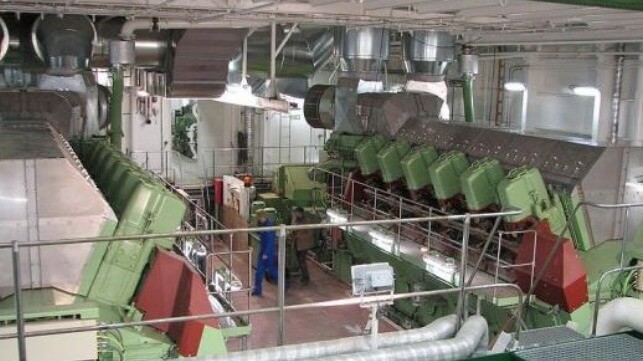 With shipowners and operators confronted by the increasing emissions regulations, Wärtsilä is proposing a new radical derating retrofit solution to extend the emissions-compliant lifetime of merchant vessels. According to the technology group from the engine manufacturer, the approach is the latest step that will improve the efficiency of the existing fleet, providing additional years of compliance with the Carbon Intensity Indicator (CII) regulations introduced by the IMO in 2023, and providing a path to futureproofing assets against additional environmental measures.
Analysis from Wärtsilä shows that without modification, more than 80 percent of the global merchant fleet could fall into the lowest CII rating by 2030, requiring mandatory corrective action and risking losing business to more efficient vessels.
The goal of the Wärtsilä Fit4Fuels program is to find solutions to help the existing fleet extend their compliance and economic lives. They believe it is possible to offer "breathing space until uncertainties in fuel availability and cost resolve." Previously, Wärtsilä detailed a retrofit technology platform to convert 2-stroke diesel engines to run on future fuels and a fuel injection technology for electronically controlled 2-stroke engines.
The radical derating approach Wärtsilä says provides the existing 2-stroke fleet with leaner, healthier, and more optimized engines. Employing the retrofit solution ship owners reduce the bore size of 2-stroke engines by 25 percent which results in significantly improving combustion efficiency, which in turn reduces both fuel consumption and greenhouse gas emissions.
Two-stroke engines are one of the most broadly employed in the commercial shipping industry and account for a large portion of the shipping industry's current emissions. Wärtsilä says that as a main engine, it is now oversized for today's operating patterns providing the opportunity to take this approach without impacting the vessel's operations and financial performance.
The approach reduces the bore size of the 2-stroke engine by 25 percent (Wärtsilä)
"With the IMO's CII now in force, operators of merchant vessels need cost-effective solutions that can assure the long-term fitness of their existing fleet," says Ole Pyndt Hansen, Managing Director at Wärtsilä 2-Stroke Services. "Radical derating gives mid-life engines a new lease of life, with a power output and emissions profile that can take them through the early years of CII and prepare them for the most efficient use of new fuels needed to reach later emissions targets."
While conventional derating merely tunes engines for operation at lower loads, the radical approach involves reducing the bore diameter of engine cylinders and introducing a new combustion chamber design, enabling the engine to run at optimal loads and with state-of-the-art fuel efficiency. The higher compression ratios and firing pressure achieved mean that the modified engine offers far greater efficiency than either conventionally derated engines or unmodified engines run at much lower loads.
Tests on the radical derating approach were carried out last year on a containership with large-bore two-stroke main engines. Wärtsilä reports that the results proved that a vessel with this kind of, can save 2,000 tons of fuel and reduce at least 6,000 tons of CO2 emissions.
Improving engine efficiency by up to 15 percent or more, Wärtsilä reports its broad Fit4Power approach extends an average ship's CII compliance by 3-5 years. The Fit4Power approach also received a certificate of product design assessment from the American Bureau of Shipping (ABS) in 2022. The solution is also reported to be a step towards the economical use of alternative fuels and part of a retrofit solution that will enable vessels to use LNG, methanol, and ammonia fuels.
By substantially renovating mid-life engines, Wärtsilä says radical derating also benefits operators by both reducing ongoing maintenance costs, lubricating costs, and extending the lifecycle of the main engine. Radical derating is currently available only for RT-flex96C engines.