Virgin Voyages Reveals Interior Designs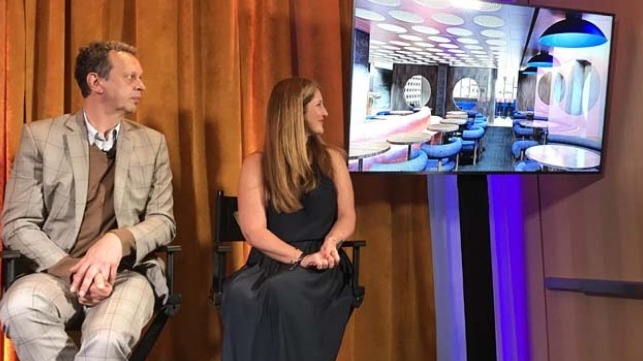 Virgin Voyages is continuing its staged reveals of details of its new cruise line and 110,000 gross ton cruise ship currently under construction by Fincantieri. At a New York City event, Virgin provided a first look into some of the interior designs for the new ship and discussed their guiding philosophy.
Tom McAlpin, President and CEO of Virgin Voyages, set the tone for the discussion reiterating that they are committed to creating "more than just another cruise line." While the ship will accommodate more than 2,700 passengers with 1,150 crew members, they are seeking to create "a more personal and intimate experience," he notes.
Development of what he is calling "the lovely lady ship," has been a long–term effort that is now beginning to come to fruition. McAlpin explains that they spent a full year on design and there was another year of engineering. Steel cutting for the first ship began in March 2017, with elements being built at three shipyards, including in Romania and Palermo, Italy. The Fincantieri yard in Sestri Ponente (Genoa) began assembly on October 31, 2017 and according to McAlpin, 48 blocks have now been completed out of a total of 108. He said construction has reached up to Deck 16, where the ship's pool is located.
Using what Virgin is calling a "Creative Collective," they brought together leading interior design firms, none of which has previously worked on cruise ships to develop the passenger spaces aboard the ship. The objective is to bring "a new perspective," as part of Virgin's mission to redefine what consumers can expect from a sea vacation.
The team, which includes Tom Dixon's Design Research Studio in London, Roman and Williams in New York, Concrete Amsterdam, Softroom in London, and WorkAC in New York, is sharing spaces around the ship, not working in zones. The designers emphasized that they are free to pursue their individual visions, but they are harmonizing, sharing their designs "in the cloud." They have come to view their design collaborative like a cosmopolitan city.
Dee Cooper, Senior Vice President of Product Design for Virgin Voyages, who is leading the effort, believes that "The Creative Collective challenged Virgin to do more on ship and think more about lifestyles."
The designs will use some classic nautical elements so that the passengers, whom Virgin calls sailors, "are always conscious that they are at sea." However, Tom Dixon comments that, "a lot of ships are about 'forced fun.' Virgin always challenges the cliché."
Virgin's design concepts focus on the contrasts created by "a juxtaposition of high energy spaces that meet areas of rejuvenation and relaxation," and between the individual designs. The objective is to create "the grit and authenticity of a land experience on ship. The goal is to make it feel a bit more honest and less synthetic."
For the designers not familiar with working with shipboard spaces there have however been some challenges. Dixon, for example, commented on technical issues, the relative low ceiling heights and the vast amount of restrictions on acceptable materials.
Everything is proceeding under the watchful eye of famed billionaire entrepreneur and founder of Virgin Richard Branson. While he is not involved in the day-to-day of the process, sources familiar with the progress say that Branson is copied in and reviewing at key junctures. The effort is very sensitive to being faithful to the Virgin brand and for example when it comes to the shipboard nightclub, which was inspired by Richard Branson's history in the music industry. "If Virgin can't do the best darn night club at sea, nobody can," says Cooper.
The spaces revealed included:
Pink Agave, a Mexican restaurant with a bar and private dining room designed by Design Research Studio that features distinctive lighting, electric blue colored walls and banquets along with tables for two;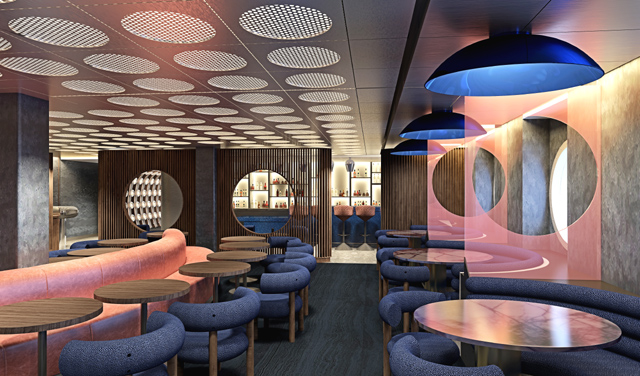 VIP rooftop space, Richard's Rooftop, a lounge and bar space at the front of the ship with a futuristic aesthetic for suite guests also by the Design Research Group;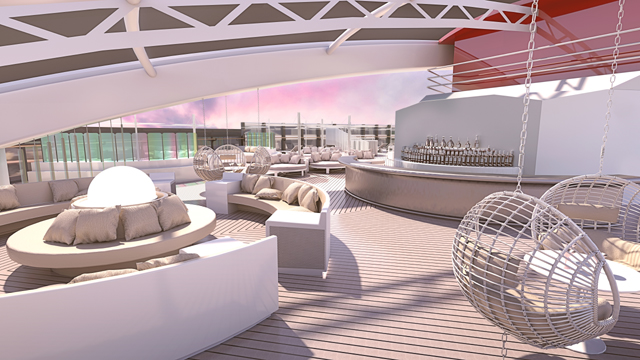 Test Kitchen, a restaurant with modern clean lines and metallic furniture created by Concrete Amsterdam that will be a cooking school during the day with a drink laboratory and features designs that bring patrons face-to-face with the chef;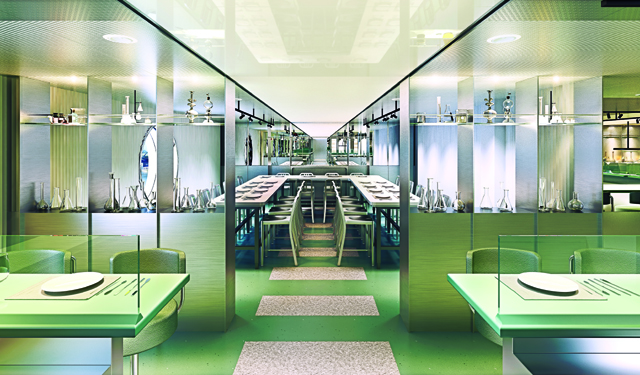 Athletic Club, a vast top deck space designed by Concrete Amsterdam that integrates relaxation areas with a trophy bar, 10 private cabanas, healthy food options, and sports ranging from boxing to indoor and outdoor gyms, areas for brain training games and a free floating jogging track with sea views;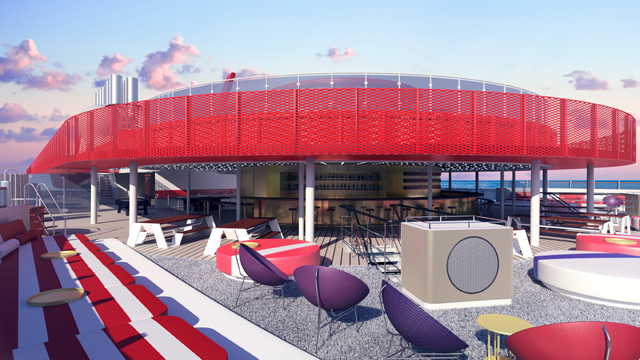 The Dock, an outdoor lifestyle space design by Roman and Williams at the stern on Deck 7 for relaxation and socializing (which like another Fincantieri-built ship the MSC Seaside) seeks to use its location to create a bond with the sea; and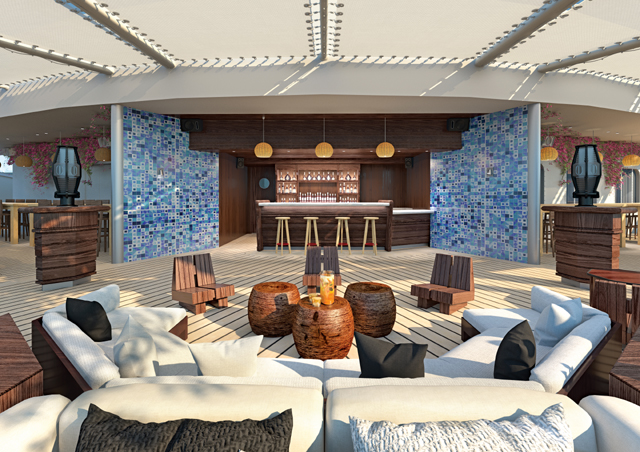 The Manor, a Branson-inspired night club outfitted with details, platforms and corners, and emerald and aubergine colors and gold accents to create a feel of "glitz and glamour at sea."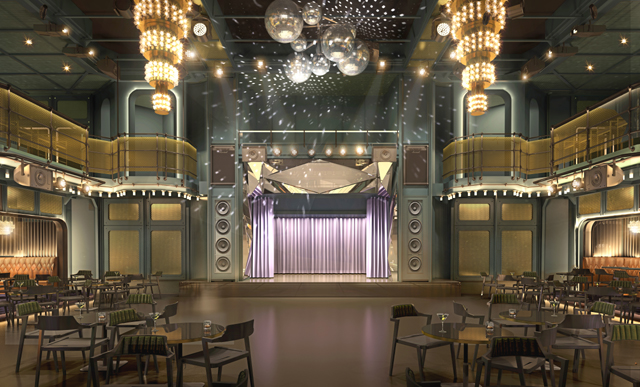 Virgin is promising additional reveals of other onboard public spaces and cabins throughout the year, announced in a uniquely Virgin way.
Due for delivery in 2020, the first Virgin Voyages' ship, which will sail from Miami, will also be unique in the North America market with its "Adult by Design" approach for customers 18 years of age and older. Each ship is to be 278 meters long (912 feet) and 38 meters (125 feet) wide, according to Fincantieri, with the additional deliveries scheduled for 2021 and 2022.