Video: Russian Freighter Damages Freeway Bridge in Busan
On Thursday, a Russian freighter struck a highway bridge in Busan, causing damage to the vessel and to the structure. Korean Coast Guard investigators are examining whether the master's alleged intoxication may have been a contributing factor.
According to Busan's police, the 9,700 dwt Seagrand allided with a moored cruise ship in the harbor, then struck the lower deck of the Gwangan Bridge at about 1620 hours local time on Thursday. She allegedly backed down and departed the scene after the allision.
The Seagrand's foremast struck the bottom of the bridge span, and the mast structure collapsed upon impact. Drivers on the highway bridge paused momentarily, then resumed their commutes; police later closed off the section for inspections. Video from the scene indicates that the steel support structure for the bridge span suffered significant damage, including a six-foot-long hole in one of the span's giant steel girders.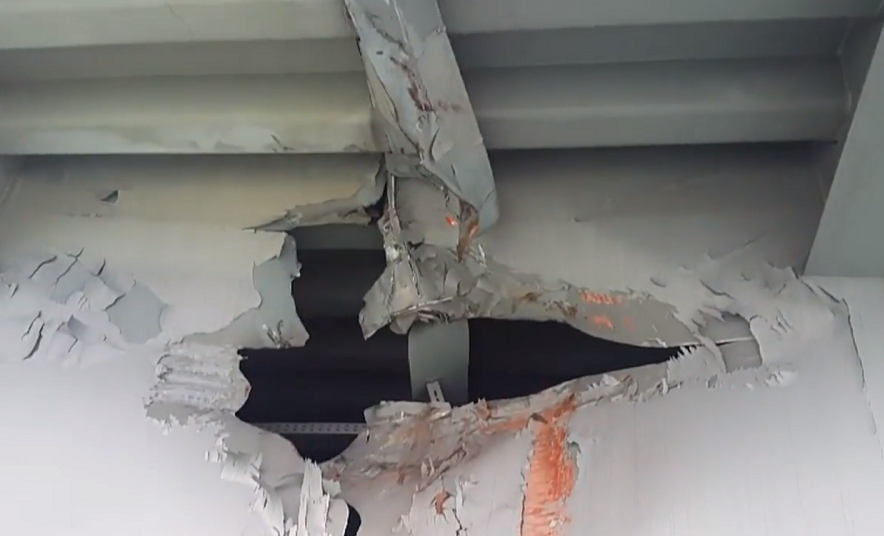 Video still courtesy Busan Facilities Management Corporation
After the allision, Korea Coast Guard personnel boarded the Seagrand and administered a blood-alcohol content test to the crew. According to the KCG, the captain had a BAC of about 0.09 percent, roughly three times the legal limit for a watchstander; however, it is not yet clear whether he had the conn at the time of the casualty, and the other crew on watch showed no signs of intoxication. Local media reported that VTS operators tried to direct the Seagrand onto a safe course, but were not able to effectively communicate with her because "the captain of the Russian ship was not able to speak English properly."