Video: Crew Escapes Fire Aboard Shadowy Chinese Cargo Ship in Taiwan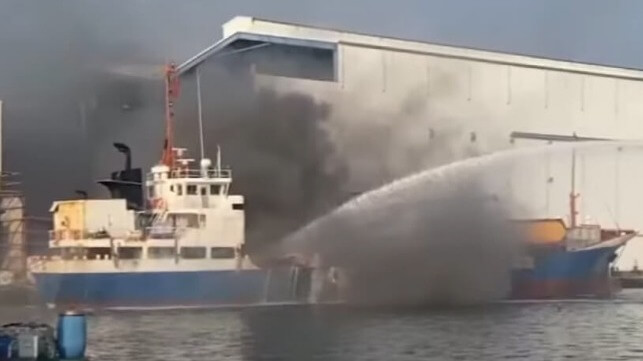 A small Chinese-owned cargo ship caught fire while in a Taiwan shipyard for repairs creating some dramatic scenes as crewmembers ran for safety and one reportedly fell or jumped overboard into the harbor. After some dramatic moments, the crew and the shipyard workers were reported to all be uninjured and the fire was brought under control in about 30 minutes.
The ship is the Wan Lung, a 29-year-old ship that operates a coastal Chinese cargo service. The ship, which is currently registered in Cameroon, is approximately 300 dwt and 175 feet in length.
Not a lot of details are known about the ship but it has a checkered past having been listed in 2020 by the International Labour Organization as abandoned with ten crewmembers stranded aboard. The vessel then known as the Kumi Maru No. 3 was reported stuck on a sandbank and the crew had to walk ashore at low tide to get food. At the time, it had an expired registry from Sierra Leone. In 2021, the ITF reported contact with the crew had been lost and the ship's whereabouts were unknown for at least 12 months.
The ship arrived at the Jong Shyn Shipbuilding yard in Kaohsiung, Taiwan on September 12 and the fire was reported to the City Fire Department around 4:00 p.m. yesterday, September 13. There was a crew of nine aboard with eight from Myanmar and one from China, as well as an undetermined number of shipyard workers on the vessel at the time of the fire.
Local reports are saying they suspect the fire might have been started while the crew was using an oxyacetylene torch to remove rust.
TV images caught images of one crewmember running along the deck possibly trying to fight the fire or find an escape route. A Coast Guard vessel docked in front of the ship began spraying water and was joined by a fireboat and the fire department crew fighting the fire from the dock.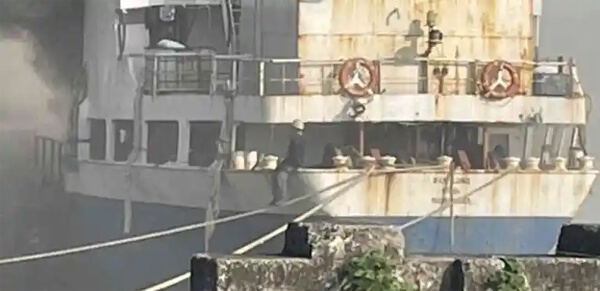 One crewmember can be seen sitting on the rail with his feet on the mooring line (CTV News)
Images showed one of the crewmembers sitting on the rail of the ship at the stern. Some reports are saying he fell into the harbor but was rescued uninjured. Some of the crew was able to make their way along with two shipyard workers to the gangway while others were trapped on the stern.
The fire was out by 4:30 p.m. but continued to smolder. The crews were unable to open the hatch fearing it would reignite the fire.