Vice Adm. Karl Schultz Named as Next Coast Guard Chief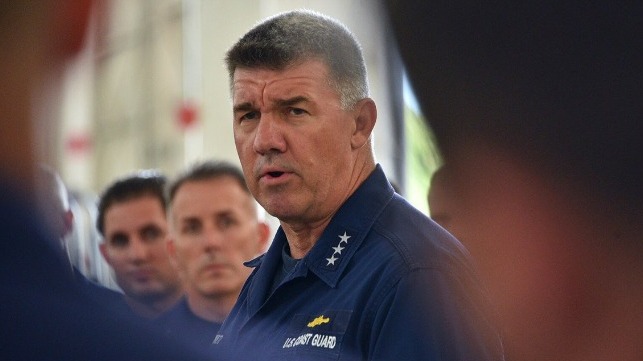 Secretary of Homeland Security Kirstjen Nielsen has named Vice Adm. Karl Schultz, commander of Coast Guard Atlantic Area, to replace Adm. Paul Zukunft as commandant. Adm. Zukunft will be retiring in June.
"VADM Schultz provides sound leadership guiding our global military service in this extraordinary era of our nation," Zukunft wrote in a social media post.
As the head of Atlantic Area, Vice Adm. Schultz was the operational commander for the Coast Guard's response to Hurricanes Maria, Harvey and Irma last year. That effort won accolades from all quarters, including recognition from President Donald Trump during his 2018 State of the Union address.
Vice Adm. Schultz's selection may signal a continued focus on the Coast Guard's counternarcotics operations, which netted about $7 billion in cocaine last year. Before his tenure as head of Atlantic Area, Vice Adm. Schultz served as the director of joint military operations for U.S. Southern Command, which has responsibility for the Caribbean, Central America and South America. He also served as commander of the 11th Coast Guard District, which is responsible for operations on the busy drug-trafficking routes of the Eastern Pacific.
Though he has a strong background in operations, Schultz will not be a stranger to politics in Washington. He has also served as liaison to the House of Representatives, liaison to the Department of State, head of the Office of Congressional and Governmental Affairs and finally the director of governmental and public affairs, the service's top external relations post.
Nielsen's pick for vice-commandant, Vice Admiral Charles W. Ray, currently serves as deputy commandant for operations and previously served as the Pacific Area Commander. Vice Adm. Ray started his career in the Coast Guard's aviation community.