Adm. Zukunft Delivers his Last Annual Address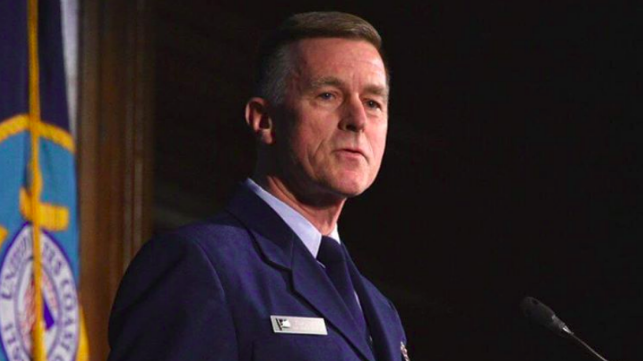 On Thursday, U.S. Coast Guard Commandant Adm. Paul Zukunft gave his final State of the Coast Guard address. He will be departing in June after forty years in the service, and for his last annual review, he returned again to the perennial question of funding - but this time, with better news.
"I directed my senior leaders to abandon a . . . bunt stance when it comes to building our budget and approach the plate by swinging for the fences," he said. "Today, I am here to report that, thanks to this Congress and this administration, we have hit our stride." The White House's FY2019 budget proposal comes in with a top line request for the Coast Guard of $11.65 billion, about $1 billion more than the average for the past five years. It includes about $2 billion for capital expenditures, including $750 million for the first in a new class of heavy icebreakers, $400 million for the next two Offshore Patrol Cutters, and $150 million for Coast Guard aircraft.
The heavy icebreaker acquisition is a top priority for the Coast Guard, which operates the United States' only functioning vessel of the type, the Polar Star. She is entering her 42nd year in service, and she suffered multiple engineering casualties during her most recent trip to Antarctica, including the loss of one turbine and flooding from a failed shaft seal. If she were to go out of service altogether, like her sister ship Polar Sea, the U.S. would not have any vessels capable of breaking a route into McMurdo Sound, the location of the main U.S. Antarctic research station. The commandant said that a formal RFP for a replacement icebreaker will be out soon, and delivery is expected in 2023.
"We are building out the Coast Guard of tomorrow and will need five percent annualized growth in [our] operations and maintenance account and a $2 billion floor for acquisitions to continue to do so," he said. "It is a small ask for the smallest armed service, whose full appropriation is less than one line item on the appropriations of the other four armed services."
Zukunft also celebrated the Coast Guard's response role during the 2017 hurricane season, when it deployed 3,000 personnel and 200 airborne and waterborne assets to help out in Texas, Florida, Puerto Rico and the U.S. Virgin Islands. He related the story of one servicemember in Houston who left his own mother behind to answer the call of duty and learned only later that another aircrew had rescued her from rising floodwaters.
He also highlighted the service's long-running and successful drug interdiction campaign off Central America, which resulted in the seizure of $7.2 billion in cocaine last year - nearly enough to fund the Coast Guard's entire operating budget if it were sold on the street. The campaign also captured 600 suspected smugglers, who were detained on board USCG cutters and transferred to the U.S. for prosecution.
"In my 40 years, I have witnessed such incredible progress," Zukunft concluded. "And I can say with certainty, on June 1st, your 26th Commandant will take the helm of - what is and will continue to be - the world's best coast guard."
The Trump administration has not yet named Zukunft's successor. The commandant, who will be 64 when he retires, has not publicly discussed his future plans.