USS Enterprise Decommissioned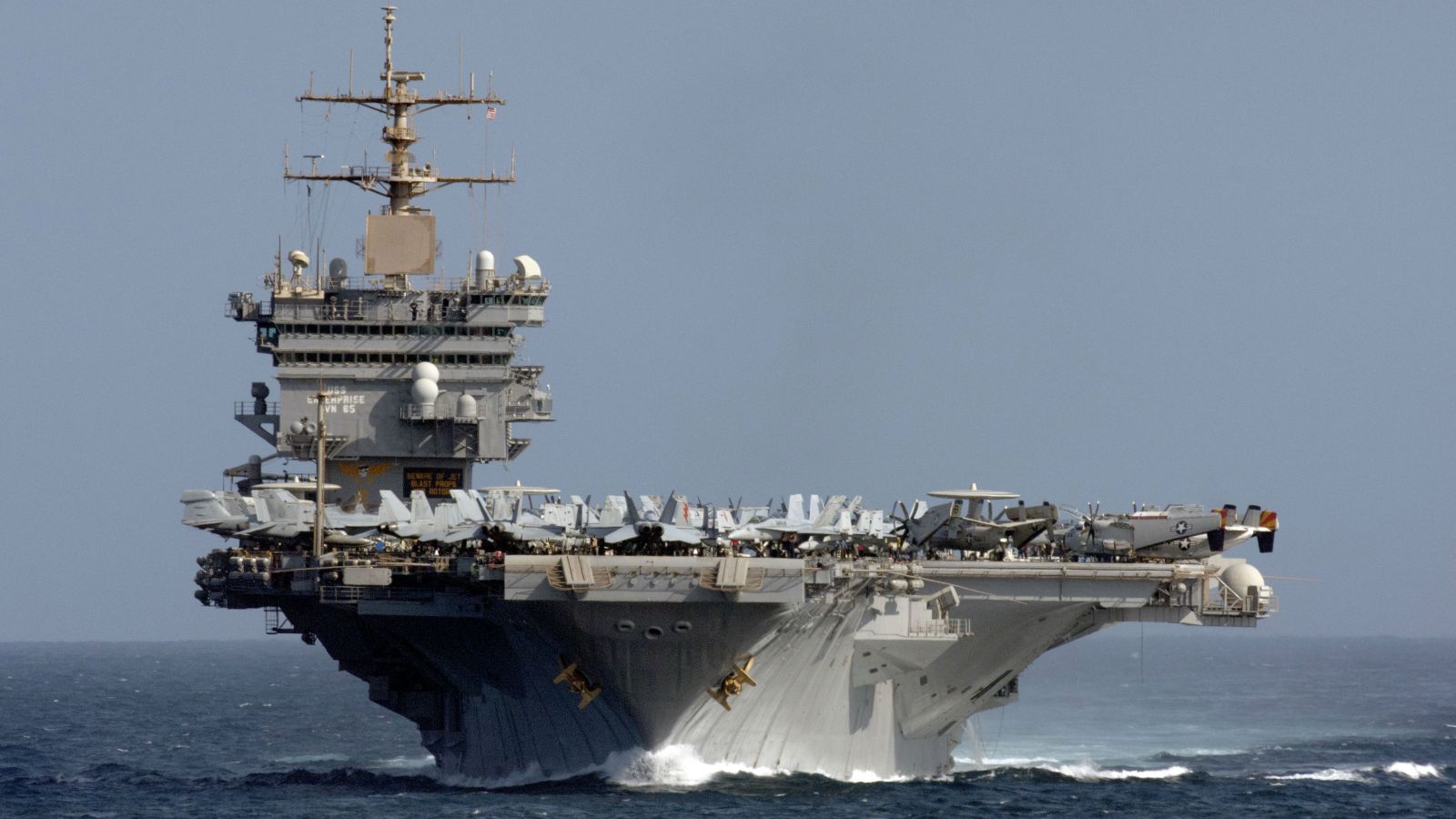 The aircraft carrier, USS Enterprise (CVN 65), was decommissioned during a ceremony held in the ship's hangar bay on February 3.
The ceremony not only marked the end the ship's nearly 55-year career, it also served as the very first decommissioning of a nuclear-powered aircraft carrier.
Enterprise was the eighth naval vessel to carry the name. It was built by the Newport News Shipbuilding and was christened Sepember 24, 1960 by Bertha Irene Franke, wife of former Secretary of the Navy William B. Franke. The ship was put to sea in 1961 and safely steamed more than one million nautical miles on nuclear power over its entire career of more than 50 years.
Some USS Enterprise Trivia (courtesy of Naval History and Heritage Command)
What was the first type of aircraft to make an arrested landing aboard Enterprise?
Enterprise went to sea for the first time as a commissioned ship for her shakedown cruise, on January 12, 1962. During this underway period she began fleet flight operations, when Commander George C. Talley, Jr., Commander Air Group (CAG), Carrier Air Group (CVG)-1 (Tail Code AB), made an arrested landing and catapult launch in a Ling Temco Vought F-8B Crusader (BuNo 145375) from Fighter Squadron (VF) 62 on January 17.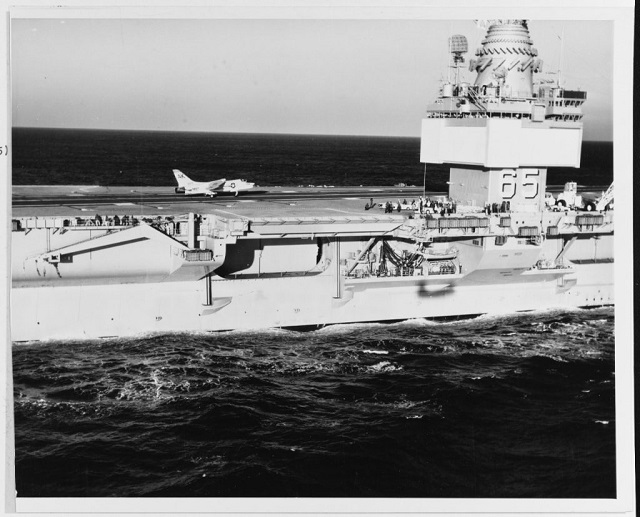 How many combat deployments did Enterprise make in support of the Vietnam War?
As 1966 began, Enterprise had been on deployment for about a month – the first nuclear powered ship to engage in combat operations. That 1966 deployment would be the first of six combat deployments to Southeast Asia in support of the Vietnam War. Some of the stories from these deployments are truly hair-raising and in many cases heroic by all measures.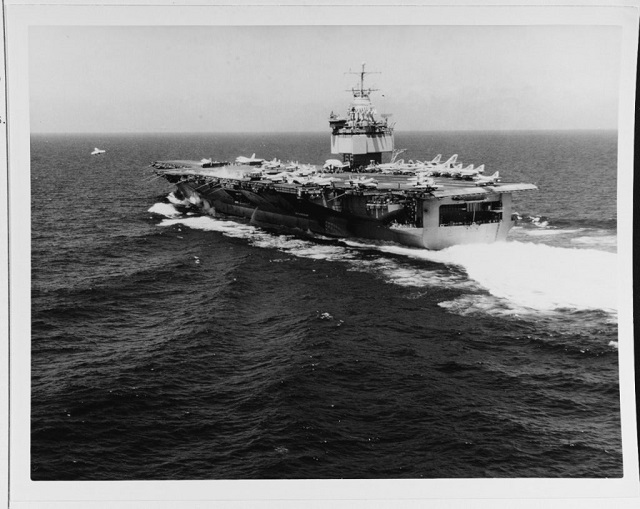 During her 51 years of active service, how many Sailors served aboard Enterprise?
When the ship returned to its homeport of Norfolk, Virginia, from its final deployment November 4, 2012, she had deployed a total of 25 times and participated in every major conflict since the Cuban Missile Crisis and had become the home to more than 100,000 Sailors. Enterprise has been homeported in both Alameda, California and Norfolk, and conducted operations in every region of the world.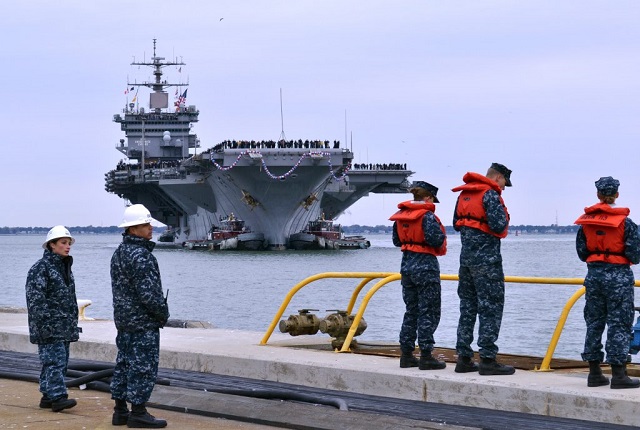 What was the first aircraft carrier to deploy with the F-14 Tomcat?
Of course, it's Enterprise! On August 12, 1973, Enterprise entered Puget Sound Naval Shipyard in Bremerton, Washington. Among projects completed during her extended selected restricted availability were repairs and alterations to enable the ship to operate Grumman F-14A Tomcats. Equipped with AIM-54A Phoenix air-to-air missiles, Tomcats could engage targets up to 100 miles out.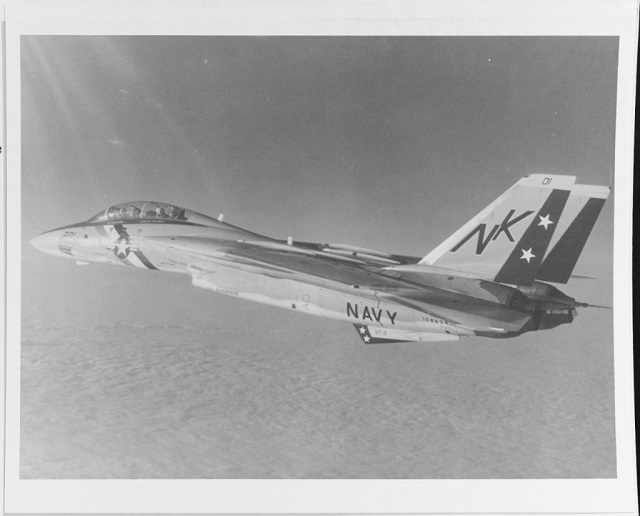 How does an aircraft carrier pull a Houdini?
With a little help from her friends. During the Cold War Enterprise, like many large Navy ships, was nearly always shadowed by sometimes troublesome Soviet spy ships. In February 1977, a Soviet rocket cruiser was making a nuisance of himself when Enterprise and USS Long Beach (CGN 9) teamed up to give the bear the slip for three days. The secret to their success? Complete reliance on satellite communications and maintaining a strict emissions control posture.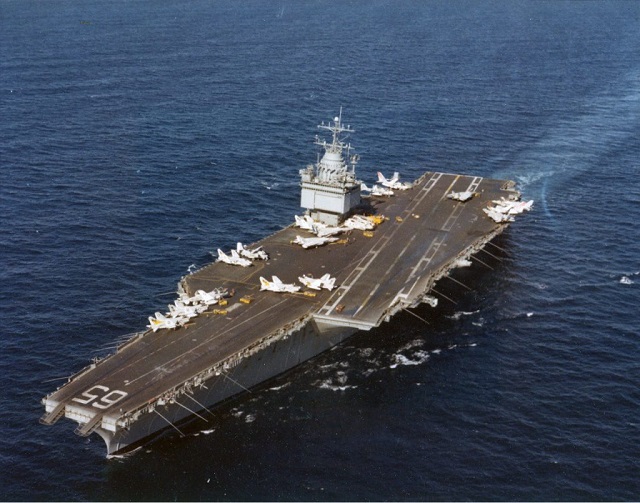 On April 28, 1983, while returning home from deployment, CVN-65 ran aground. Who was the Enterprise helmsman onboard the ship that day?
Lt. Cmdr. Hikaru Sulu, Starfleet. Okay trick question! But it's true: Actor George Takei, who portrayed the helmsman of the fictional starship Enterprise was aboard that day, but he was not at the helm. The accompanying photo is of a die cast model of the starship, which is one of many Star Trek related artifacts collected by the ship for which the starship is named. The model became a part of the artifact collection of the Naval History and Heritage Command in 2006. Oh, and the grounding was temporary, and the ship got underway a few hours later as the tide rose. During the cruise, the ship's air wing, CVW-11, had flown approximately 29,000 hours and recorded over 11,000 traps.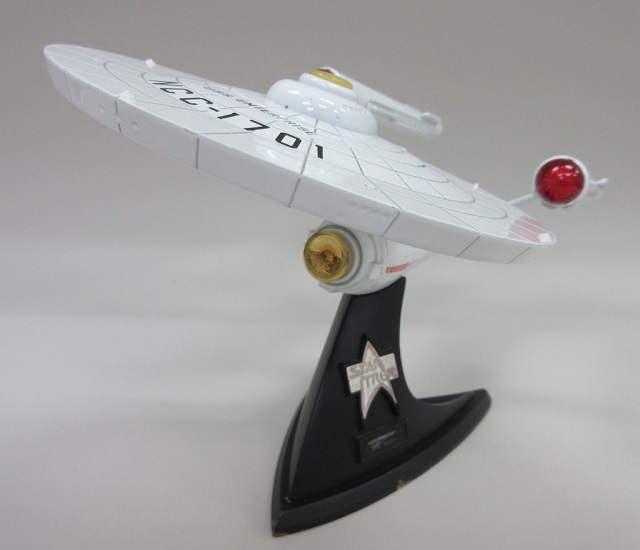 In what decade did Enterprise become the first nuclear powered aircraft carrier to transit the Suez Canal?
The 1980's. Beginning at 3 a.m. on April 29, 1986 Enterprise became the first nuclear powered carrier to transit the Suez Canal. When she exited the north end of the canal 3:14 p.m. when she entered the Med for the first time in almost 22 years.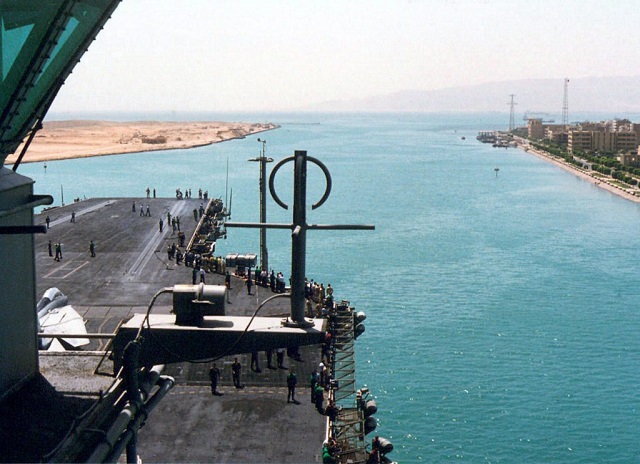 In what year did Enterprise receive its first local area network (LAN)?
1993, during which Enterprise was entering her third year in overhaul. One of the most important changes to Enterprise during that time was the installation of a LAN, involving the running of thousands of feet of cable, both coaxial and fiber optic. The ship still had more than a year of overhaul to complete before leaving the shipyard on September 27, 1994.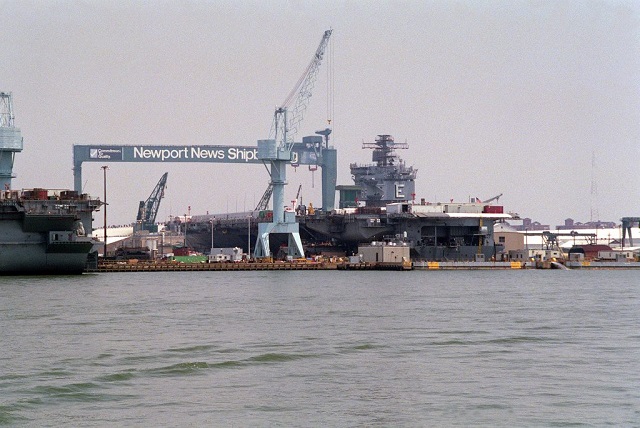 How many pounds of ordnance did Enterprise aircraft drop on Iraq in the four days Operation Desert Fox?
692,000 pounds. Operation Desert Fox was a coalition air campaign against Iraq December 16-20, 1998 in response to that country's failure to cooperate with United Nations resolutions. Enterprise launched more than 70 Navy and Marine Corps strike and strike support aircraft. Targets included weapons facilities, security sites and forces, integrated air defense and airfields, and Iraqi command and control infrastructure. Direct hits ripped apart an Iraqi military intelligence center, and four of the five barracks housing a Republican Guard H.Q. were demolished. There was no opposition from Iraqi aircraft. Enterprise launched and recovered 297 combat sorties during 70 hours of operations, with CVW-3 aircraft dropping 200 precision guided bombs, more than 30 free-fall weapons and more than 80 anti-radiation missiles.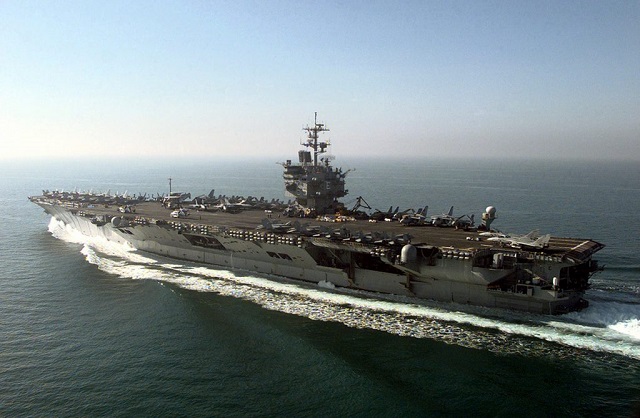 Where was Enterprise on September 11, 2001?
She had just left the Arabian Gulf, only two days earlier having conducted strikes against Iraq as part of Operation Southern Watch. She was headed south to Capetown for exercises with the South African Navy. Upon learning of the attacks on America, she turned around and charged north to a position 100 miles south of Pakistan. She was quickly joined by a large force of American and coalition ships and just a few weeks after the attack, she went into combat once again completing the final few weeks of her deployment before heading home.
During that time, the ship flew around the clock for 18 consecutive days, dropping more than 829,150 pounds of ordnance on al Qaeda and Taliban targets. The ship completed 10,111 incident free launches and arrestments. A total of 13,624 sorties (8,182 day and 5,442 night) were flown from the deck of Enterprise in 2001, resulting in 28,262 flight hours (17,495 day and 10,767 night). By the time she returned home to a grateful nation on November 10, 2001, she had steamed 90,426 nautical miles, conducting six moorings, 22 anchorages and 48 underway replenishments.