USCG Recognizes Chemical Terminal for Security Standards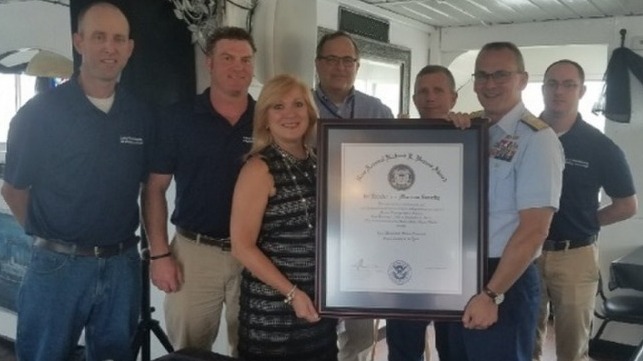 On Tuesday, U.S. Coast Guard Rear Adm. John P. Nadeau awarded the service's top maritime security award to Lucy Woodstock Marine Terminal in Memphis, Tennessee.
The Coast Guard's Richard E. Bennis Facility of the Year Award for Excellence in Maritime Security recognizes outstanding contributions in implementation of the Maritime Transportation Security Act. The Act was created in the wake of the 9/11 attacks to address port and waterway security.
The Lucy Woodstock Marine Terminal handles anhydrous ammonia and other bulk liquid dangerous cargo, and is located near the confluence of the Wolf River and the Lower Mississippi River on the outskirts of Memphis. The U.S. Coast Guard selected the terminal based on its engagement in partnerships with local, state, and federal agencies; how it instills a culture of security; how it develops, manages, and implements maritime security plans; and the innovation and integration of its physical security measures.
"Thank you for your dedication toward excellence in maritime security. You have gone above and beyond what is expected and you are an excellent role model for other facilities," said Nadeau.
Facility manager Joy Terral accepted the award on behalf of the terminal. Terral has served as a vice chair of the Memphis Area Maritime Security Committee since 2015. "We are humbled by this honor and we will continue to strive and uphold a standard of excellence in this industry which we call our own," Terral said.
The award is named for the late Rear Adm. Richard E. Bennis, who began his career in 1972 and went on to serve as the captain of the ports of Charleston, South Carolina, and Hampton Roads, Virginia. While serving as captain of the port of New York on Sept. 11, 2001, Bennis organized the waterborne evacuation of nearly 500,000 people from lower Manhattan after the terrorist attacks on the World Trade Center. He honorably served in the Coast Guard for 30 years until his retirement in 2002.