USCG Offloads $400M in Cocaine in Port Everglades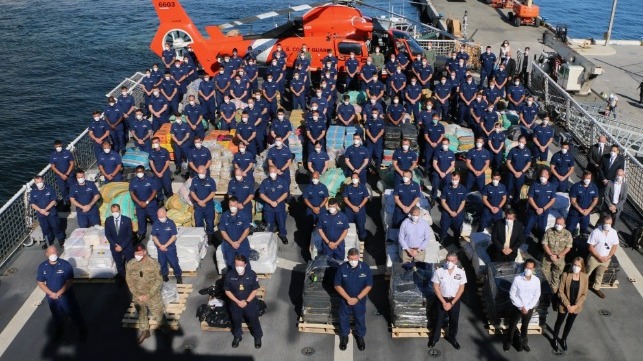 On Wednesday, the crew of the U.S. Coast Guard cutter James offloaded more than 23,000 pounds of cocaine worth about $400 million at Port Everglades, Florida.
The drugs were seized in the Eastern Pacific off Mexico, Central and South America, and they comprise the results of 20 interdictions of suspected smuggling vessels. Eight U.S. Coast Guard, U.S. Navy and Royal Navy ships contributed to the haul, including the cutters James, Seneca, Reliance, Legare and Joseph Doyle; the U.S. Navy vessels USS William P. Lawrence and USS Gabrielle Giffords; and the Royal Navy amphib RFA Argus.

"This patrol highlights our crew's continued commitment to protecting the American people from our adversaries," said Capt. Todd Vance, James' commanding officer. "Despite COVID, the James crew demonstrated supreme resilience, and the results of their exceptional performance are being showcased today."
The law enforcement phase in the Eastern Pacific is run by the Coast Guard's 11th District, headquartered in Alameda. The interdictions - including the boardings - are conducted by members of the U.S. Coast Guard, who are embarked aboard U.S. Navy, USCG and partner nation vessels.
"Working seamlessly with U.S. and international colleagues, the presence of RFA Argus has prevented . . . $54 million of drugs offloaded here from reaching the streets in the last few months; taken together with a wider effort this year by UK ships HMS Medway and RFA Mounts Bay, around $650 million of drugs have been stopped," said Commodore Phil Nash, the naval attaché at the UK's embassy in Washington.
America's overseas allies have a significant incentive to participate in what was (until recently) a North American effort. Recent research suggests that the majority of the cocaine headed north from production centers in Colombia is ultimately bound for Europe and other far-flung destinations, not for the United States. Lured by the high street prices in European cities, organized crime networks are using their northbound smuggling networks to deliver cocaine to seaports in Central America and Mexico, where it is slipped into ordinary shipping containers and sent overseas. Given this changing pattern, an interdiction in the Eastern Pacific may strike the cocaine supply chain for the EU or the UK.