USCG Gets 10,000 Comments on Hudson Anchorage Plan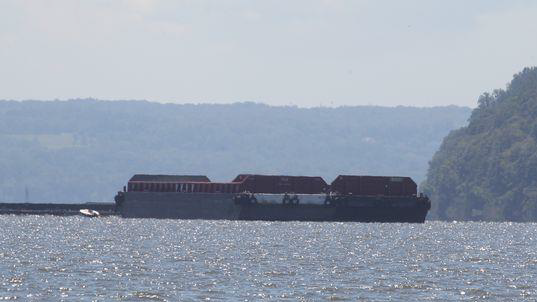 By the time a filing period closed on Tuesday, the Coast Guard had received over 10,000 public comments on a proposal for 10 long-term barge anchorage areas on the Hudson River.
The USCG says that the proposal "may improve navigation safety along an extended portion of the Hudson River." Commercial operators have long used the proposed locations for anchoring up in foul weather; the designation would formalize this practice and allow them to stay for longer periods of time.
The Hudson River Waterfront Alliance, a group of elected officials from Weschester County riverfront communities, opposes the plan. The long-term anchorages could accommodate over 40 barges at a time, and the Alliance contends that they would be used for arbitrage, making the river "a parking lot for tugs, barges, and oil tankers, where vessel owners can wait until market conditions are more favorable."
The Hudson River Valley is a designated heritage area and a tourist destination, and the Alliance contends that a large number of anchored barges would detract from its appeal for visitors and developers. Many Hudson communities have invested heavily in waterfront redevelopment projects; the Alliance is concerned that developers could pull out of current or future proposals if the view across the Hudson included large numbers of barges.
In addition, the group believes that increased tug and barge activity on the river could raise the risk of a marine casualty. Many of the barges traveling down the Hudson carry oil shipped from the Bakken fields and the Canadian tar sands, and the Alliance contends that the anchorage proposal could increase the risk to the environment.
Edward Kelly, executive director of the Maritime Association of the Port of New York and New Jersey, expressed surprise that there has been so much public resistance to the proposed anchorage.
He dismissed the Alliance's concerns about floating storage. "No one in their right mind can afford to store oil on the river," Kelly told local outlet Westfair Online.
Kelly is confident that the Coast Guard will eventually approve the anchorages. However, in addition to the many public comments filed in opposition, the USCG faces objections from the State of New York, and New York's congressional delegation has advocated for a longer public hearing process before the agency's final ruling.