U.S. Type-Approves First Ballast Water Treatment System
One of the main stumbling blocks for the successful implementation of the IMO Ballast Water Management Convention is retreating now that the U.S. Coast Guard has issued its first type approval certificate for a ballast water treatment system.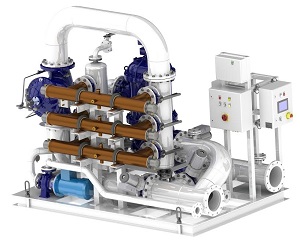 The U.S. Coast Guard Marine Safety Center issued the certificate to Norway's Optimarin on Friday for its UV-based treatment system. DNV GL tested the system to U.S. Coast Guard standards for fresh, brackish and marine water at the NIVA test facility in Norway.
Optimarin, which installed the world's first commercial treatment system on the Princess Regal in 2000, has had its best year in business in 2016, taking orders from a wide range of shipowners, operators and yards. These include contracts with Atlantis Tankers, Vard Group, Saga Shipholding, Fincantieri Bay Shipbuilding, Fisherman's Finest, Solvang ASA and Carisbrooke, amongst others. Of the company's units installed to date, over 60 have been retrofitted in conjunction with global engineering partners Goltens and Zeppelin Power Systems.
Implementation Schedule
The Convention, which was adopted in 2004, aims to prevent the spread of harmful aquatic organisms by establishing standards for the management and discharge of ships' ballast water and sediments.
The entry into force of the Convention is set for the September 8, 2017. However, IMO's Marine Environment Protection Committee meeting in October (MEPC70) also considered postponing implementation dates for the Convention. The issue is set for further discussion at MEPC 71 to be held in May 2017. There are two suggestions: the original one setting retrofit dates to be between 2017 - 2022 and a new proposal, supported by the shipping industry, to postpone the window by effectively two years to 2019 - 2024.
"Are two years worth the hassle and confusion that we now have?" asks ballast water management consultant, Jad Mouawad. "We believe not, but that is what the shipping industry asked for, and we will likely either end up with the original proposal 2017 - 2022 or somewhere in between 2018-2023."
New G8 Guidelines
Revised, more stringent, IMO type approval G8 guidelines were adopted by MEPC 70 in an attempt to meet industry concerns and to better align the Convention's type approval process with that of the U.S. Coast Guard. The new guidelines follow the same pattern as the U.S. Coast Guard and the old guidelines, but they now include more specifications that require more work by equipment manufacturers. "We don't anticipate all ballast water treatment systems to have to repeat tests, only those that have not yet completed tests in fresh water," says Mouawad.
All ships are expected to install equipment approved according to the new G8 guidelines as of October 28, 2020. This means in practice that ballast water treatment system manufacturers have between two and four years to make sure they have equipment complying with the new G8 Guidelines, and, if desired, the U.S. Coast Guard Type Approval regulations.
More U.S. Approvals Underway
The Marine Safety Center continues to review type approval applications from other treatment system manufacturers. Each type approval application includes thousands of pages of data and analysis to document compliance with the comprehensive land-based and shipboard testing requirements.
"While this [first type approval] is a significant milestone, it is the first of multiple system approvals that are needed to mitigate the threat of harmful aquatic invasive species," said Rear Adm. Paul Thomas, assistant commandant for prevention policy. "One size does not fit all, so we will continue to evaluate other systems submitted by multiple manufactures with the intent to provide options that meet shipping's varying needs."
There are still other ways that vessels can comply with U.S. ballast water management regulations. These include:
• Temporary use of a foreign type-approved system that has been accepted by the Coast Guard as an alternate management system – for a limit of five years
• Use of ballast water obtained exclusively from a U.S. public water system
• Discharge of ballast water to a reception facility
• No discharge of unmanaged ballast water inside 12 nautical miles
The U.S. Coast Guard has also released Marine Safety Information Bulletin 14-16 which provides answers to frequently asked questions concerning the extension program, vessel compliance dates and the use of alternate management systems.