UN: Blockade Threatens to Push Yemen into Famine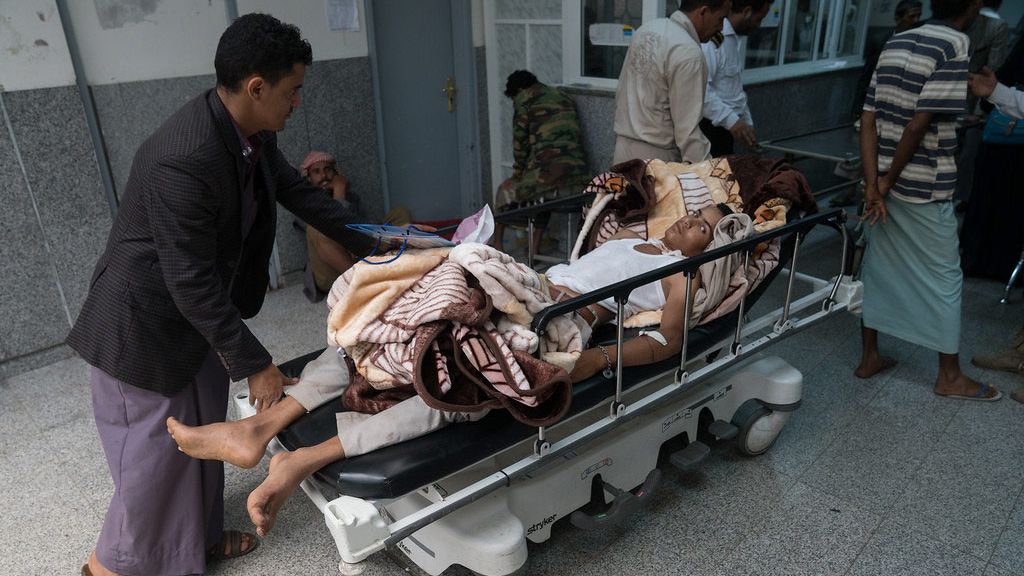 In a teleconference on Tuesday, U.N. Development Program country director for Yemen Auke Lootsma said that the looming famine in the war-torn country is a construct of policy. "The current food security crisis is a man-made disaster not only resulting from decades of poverty and under-investment, but also as a war tactic through economic strangulation," he said.
Lootsma said that about two-thirds of Yemenis are in need of humanitarian assistance, with spiking food prices and falling purchasing power putting sustenance out of reach. Cholera is on the rise, with 400,000 cases over the past few months.
Yemen is "racing towards the edge of a cliff," Lootsma said, and "the one controlling the direction of the bus keeps going and pushes the accelerator, all but certain to crash." He did not name the "driver," but in an earlier statement, the Office of the United Nations High Commissioner for Human Rights (OHCHR) alleged that the ongoing blockade of Yemeni ports by a Saudi-led military coalition is largely to blame for the food shortages. "The unwarranted restrictions on the flow of commercial and humanitarian goods and services into Yemen and impeding distribution within the country are paralyzing a nation that for far too long has been a victim of war," said U.N. Special Rapporteur Idriss Jazairy in April. Specifically, he cited long delays or denial of entry to Yemeni seaports: "The blockade involves grave breaches of the most basic norms of human rights law, as well as of the law of armed conflict, which cannot be left unanswered," he said.
The blockade has business implications for merchant vessels trading to Yemen. In guidance published July 25, leading marine insurer Gard warned of delays due to power outages and limited capacity at Yemeni ports, and added that "entry to Yemeni territorial waters will be granted only following an inspection by the naval forces of Saudi Arabian-led coalition." Gard cautioned that the inspection process raises the possibility of additional delays for vessel operators.
Houthi rebels strike Emirati vessel
On July 30, the Houthi rebel coalition fighting the Saudi-backed government of Yemen said that they had successfully attacked an unidentified warship belonging to the UAE. The rebels claimed to have killed 12 UAE military personnel and wounded 23 more. According to the Houthi account, a nearby UAE minesweeper was also "badly damaged" in the attack.
Previously, the rebels destroyed a Saudi coalition gunboat off Hudaydah on July 24; damaged a Saudi warship off Hudaydah on January 30; destroyed the Emirati fast transport HSV-2 off Mokha last October; and destroyed a Saudi naval vessel near Bab el-Mandeb in October 2015. Houthi forces also launched missile attacks on the U.S. Navy destroyer USS Mason, prompting an American response that destroyed several rebel radar sites.
IRGC alters supply route for missile shipments
Iran is widely believed to be providing material support to the Houthi rebels, including weapons, though Tehran officially denies involvement in the conflict. On Tuesday, Reuters reported that the Iranian Revolutionary Guard Corps (IRGC) has altered its supply route into Yemen, shifting at-sea transshipment activity to the waters of the northern Persian Gulf. "Parts of missiles, launchers and drugs are smuggled into Yemen via Kuwaiti waters," an Iranian official told Reuters. "The route sometimes is used for transferring cash as well."
A second Iranian official and an arms dealer confirmed the reports. Gerry Northwood, a former Royal Navy captain now working with maritime security firm MAST, told Reuters that large numbers of dhows and small craft ply these waters, making smuggling hard to track. Kuwaiti officials denied that their territorial seas were being used for this purpose.