Ukrainian Mariners Rescue Russian Sailing Vessel in the Pacific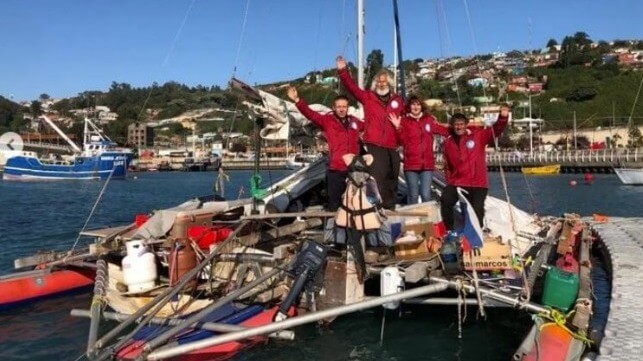 A Ukrainian-crewed bulker has rescued a disabled Russian sailing vessel on the high seas of the Pacific, the sailboat's skipper told U.S.-funded Russian news outlet Sibir Realii.
The inflatable trimaran sailboat Russian Ocean Way has been sailing around the world since mid-2021, and it has completed about 13,000 nm of its planned 32,000 nm route over the past two years. At the end of February, the boat set out for a Pacific crossing from the port of Talcahuano, Chile, bound for Easter Island. It was under way about 1,000 miles to the west of Chile when it got hit by a storm, and the wind and waves damaged the vessel's steering. A steering box was bent and broken from the strain, according to skipper Stanislav Berezkin, and its attachment mount began to crack.
Unable to make further repairs and certain that the cracking would worsen, the all-Russian crew put out a distress call, and Chile's rescue coordination center found a nearby bulker willing to come to their aid. The vessel was the Panama-flagged Sounion, operated by Laskaridis and crewed by Ukrainian and Filipino seafarers.
In heavy swells, the bulker created a lee and came alongside the trimaran so that the crew could lower a pilot ladder and bring aboard the three sailors. All were safely transferred, along with their belongings, and the captain of the Sounion even offered to tow the catamaran on the voyage back to Chile.
Communication was simple, since the bulker's captain was Ukrainian and spoke Russian - but some areas of discussion were best avoided, according to Berezkin.

"[The captain] said that he was from Mariupol, and from the bombing, he had to leave for Kyiv. We don't ask anyone else about anything. This is a bad topic," said Berezkin.