Ukrainian Gunboat Fires Shots to Halt Suspected Smugglers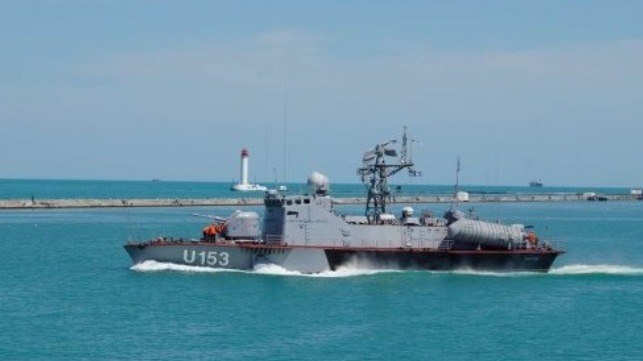 On New Year's Eve, the Ukrainian gunboat Pryluky intercepted a suspected smuggling vessel in the Black Sea by firing warning shots across its bow.
In the last hours of the year, the Ukrainian Navy and other domestic security services detected the suspect vessel off Ukraine's coast. The Navy command center of the Ukrainian Armed Forces dispatched the Pryluky to meet and inspect it, and the gunboat intercepted the suspect vessel in Ukraine's territorial waters. However, despite radio communications and an order to stop, the unnamed vessel would not halt for a boarding and inspection. The Pryluky pursued it and fired a warning shot across its bow, compelling the vessel to comply.
The gunboats Akkerman and Berdyansk assisted in bringing the vessel into port in Odessa to complete the arrest.
Enhanced security measures
Following last year's altercation between Russian and Ukrainian forces at Kerch Strait, which resulted in Russia's seizure of three Ukrainian Navy vessels, Ukraine has taken new measures to increase its maritime security capabilities. On December 29, President Petro Poroshenko signed a law expanding Ukraine's ability to enforce domestic regulations in its adjacent zone, the area between 12 and 24 nm from its coastal baseline.
According to Poroshenko's government, the law is intended to help Ukraine fight smuggling and "illegal" ship calls in the ports of Russian-occupied Crimea. Ukraine still considers these ports its own and has declared that they are closed under Ukrainian law (though on the ground they are open to traffic). In the adjacent zone, Ukraine will now exercise control over customs and taxes, immigration and phytosanitary regulations.
To provide enforcement for this new measure, Ukraine plans to order 20 new mid-size patrol boats for its navy. "They will be built at one of our factories in cooperation with leading French companies – with a high level of localization of the project in Ukraine," said Interior Minister Arsen Avakov, speaking to Interfax Ukraine.