Ukraine Blames Russian Inspectors for Record-Low Grain Exports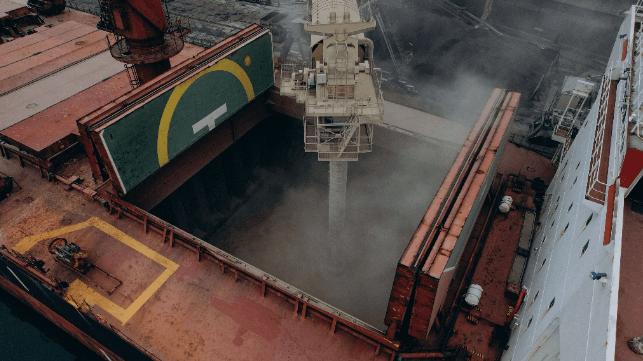 The pace of agricultural exports from Ukrainian seaports has fallen to the lowest level since the launch of the Black Sea Grain Initiative last August, according to the nation's agriculture ministry.
Over the course of the month of January, an average of 2-3 ships per day have departed the three ports covered by the UN-brokered agreement. In recent days, the average has fallen to 2.5, an all-time low (except for March-July 2022, when Ukraine's ports were shut by a Russian blockade).
According to the ministry, only 2.4 million tons of grain departed along the corridor this month, a fraction of the four million tonnes shipped in September and October.
Ukraine blames the slow pace of exports on Russian stonewalling during the inspection process. Russia has restricted the number of joint search teams assigned to the task of entry and exit inspections in Istanbul, sometimes leading to a backlog for inbound and outbound vessels. With Russia's participation, the program has been clearing as few as one outbound ship per day, and rarely more than five. When Moscow briefly quit the initiative in October, the UN, Turkey and Ukraine worked together to inspect and clear about 40 ships per day.
Everyday operational issues may also play a factor. In an update Thursday, the Istanbul-based UN Joint Coordination Centre for the grain initiative said that crew noncompliance has been slowing down inspections and has even "led to administrative measures for certain vessels." Without citing specific infractions, it reminded vessel operators about security rules on the allowable timing of bunkering, crew changes, supply runs and hull cleaning.
The initiative may have reopened Ukraine's seaborne export route, but it still has a long way to go to restore normalcy for Black Sea shipping. Two key Ukrainian ports, Mykolaiv and Kherson, are still barred from access to the sea. In addition, bulkers with grain cargoes are currently the only vessels allowed on the route to and from Ukrainian ports, though the Ukrainian government has called for a full resumption of maritime commerce.
The program can celebrate some success, though: 18 million tonnes of grain have been exported through the corridor since it began, carrying food to 43 countries and helping keep commodity prices in check. The majority of the wheat exports have shipped to developing countries, and nearly half to lower-income countries, according to the UN.