UK Secures Naval Base in Oman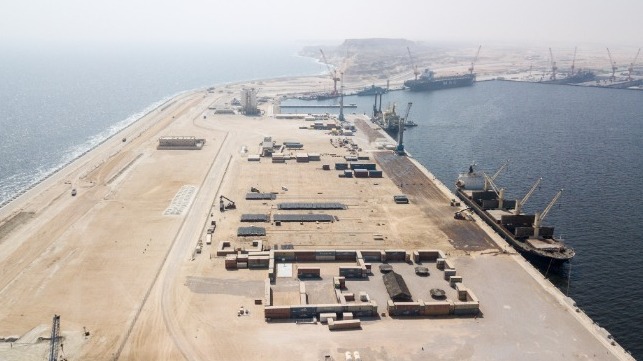 Britain and Oman have signed a new joint defense agreement confirming the Royal Navy's ability to call at the new Port of Duqm. The new greenfield port has enough depth and space to accommodate the HMS Queen Elizabeth and HMS Prince of Wales, the service's new ski-jump carriers.
"It is a pleasure to sign this agreement, bringing us even closer to one of our most important partners. This is an historic landmark moment between our two nations and is a significant reinforcement of our mutual security," said UK defense secretary Gavin Williamson in a statement.
The UK Ministry of Defense says that Duqm conveys a strategic advantage for Britain's "East of Suez" naval presence. It is located on the Arabian Sea, near enough to geopolitical hot spots in the Persian Gulf to be useful, but still on the Indian Ocean side of the Strait of Hormuz. Iran periodically threatens to close this narrow choke point in retaliation for American sanctions, and Duqm's accessibility would be less affected in the event of a closure (relative to the large ports within the Gulf).
The site's other important strategic feature is a $4.6 billion, 230,000 bpd oil refinery, which is now under construction. The new facility is designed to optimize production for light and middle distillates.
The UK has already established a Joint Logistics Support Base (UKJLSB) at Duqm, a permanent naval outpost that is operated by Oman Drydock Company and Babcock on a 37-year lease. British forces tested out the port during recent joint exercises with the Omani military, including the logistics for 200 military vehicles, three helicopters and all associated munitions.
"The agreement will ensure that these facilities are available for use long into the future, allowing the UK to maintain a presence in the region," said the UK Ministry of Defense in a statement.
For commercial shipping, the Omani government intends to market Port of Duqm as a "safe, stable and business-friendly destination for industrial and economic investment," leveraging the country's reputation as a peaceful place in a tense region. The port project currently features a multipurpose terminal with mobile cranes and a dry bulk pier; with further develpment, Oman hopes to build out a 1.5 million TEU container terminal at the site, and hopes to add a rail link to the rest of the nation's railroad network.