UK's Marquee Offshore Wind Auction Attracts Zero Bids as Costs Soar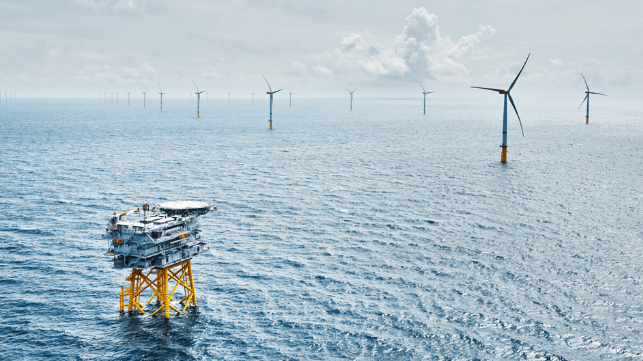 In what environmental campaigners called a "monumental failure" for the UK's renewable energy goals, the country's latest auction for offshore wind price contracts failed to attract any bids at all. It is the latest and most serious sign of profound economic change in the offshore wind industry, which has to contend with much higher supply chain and lending costs than it did just a few years ago.
The UK provides price stability to renewable-energy developers through its Contracts for Difference (CfD) auction system. Wind developers who bid successfully for a CfD contract receive a guaranteeed sale price for their electricity production for 15 years. Historically, the system has worked well - well enough to power about 40 percent of the UK electrical grid with offshore wind.
But this year, for the sixth CfD auction round, offshore wind developers say that the terms of the CfD pricing mechanism are no longer enough to offset soaring costs for steel, labor, components and interest payments.
According to developers, costs for a new wind farm are up by as much as 40 percent since the last CfD auction. Those costs are beginning to bite: last month, developer Vattenfall took the rare decision to halt work on the giant Norfolk Boreas wind farm because of high inflation and higher capital costs. CEO Anna Borg told media that "it simply doesn't make sense to continue this project" in the current cost environment. Vattenfall is said to be in early conversations about selling the project.
Despite these warning signs, the government's price floor for the latest CfD auction has increased little from the last round, according to industry groups. Under the circumstances, most developers were expected to sit out the auction; when the sealed bid results were unveiled, it became clear that all had walked away.
The UK's Department for Energy Security noted that other nations have had similarly disappointing results in recent auctions. "While offshore and floating offshore wind do not feature in this year's allocation, this is in line with similar results in countries including Germany and Spain, as a result of the global rise in inflation and the impact on supply chains which presented challenges for projects participating in this round," the department said in a statement.
However, Welsh nationalist party Plaid Cymru noted that Ireland had adapted its auction terms to the current market and attracted investment in four new offshore wind farms. "Wales is losing to Ireland due to the UK government's poor planning," asserted Plaid Cymru environment spokesperson Ben Lake.
Climate campaigners put the auction's results in starker terms. "This monumental failure is the biggest disaster for clean energy in almost a decade. Thanks to cost pressures and inept government policy, this auction round has completely flopped - denying bill payers access to cheap, clean energy," said Greenpeace UK policy director Doug Parr. "It leaves the UK more dependent on expensive, imported fossil gas."
Other elements of the renewables auction were successful, attracting strong bids for solar and tidal power development. In this round, tidal had its own set-aside, and seven small-scale projects totaling 53 MW were approved.