EU Partners Plan Urgent Aid Shipments to Gaza's Seaport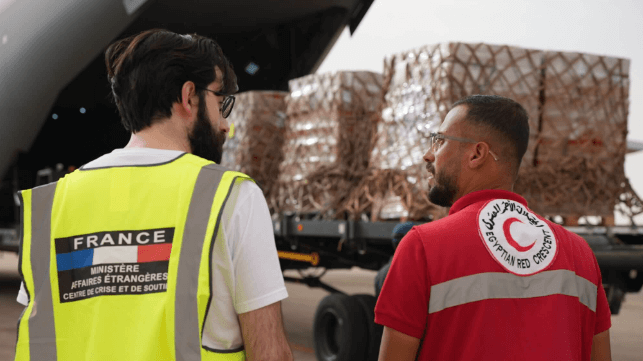 Multiple Western governments are making plans to ship humanitarian aid directly to Gaza in order to circumvent slowdowns at the territory's sole border crossing, the Rafah station on the Egyptian border.
The governments of Cyprus, the UK, France and the Netherlands are all discussing the idea of seaborne aid deliveries, and officials have said that the talks have been positive.
"The sea is, of course, a possibility," Dutch defense minister Kajsa Ollongren told the Financial Times on Wednesday.
Israel has implemented thorough security controls around Gaza since the Hamas terrorist attacks last month, and these checks add extra steps to get aid shipments into southern Gaza by land, according to UN officials. Aid trucks first go to Nitzana, a border crossing between Israel and Egypt, where they are searched by Israeli officials. The trucks then drive back through Egypt to Rafah, where the aid is transloaded onto Palestinian trucks for final delivery.
About 40-60 trucks make this trip each day, according to the UN, and about 170 in total have made the crossing as of November 1. Before the October 7 Hamas attack, about 500 trucks crossed at Rafah daily. Fuel deliveries remain blocked in order to prevent diversion by Hamas.
If the war risk at Gaza City is too high for civilian shipping, naval assets could be used for seaborne shipments. The Royal Navy auxiliaries RFA Argus and RFA Lyme Bay - both equivalent to amphibious assault ships - are in the region, along with the French Navy's helicopter carrier Tonnerre. (Though the U.S. has not been named as a potential participant in an aid sealift, multiple U.S. Navy assets with similar capabilities are also in the area.)
Limassol, Cyprus would serve as a staging ground for a European aid sealift effort, and vessels would be inspected at the pier before departing. Cypriot government spokesman Constantinos Letymbiotis told media on Wednesday that Israeli Prime Minister Benjamin Netanyahu has expressed a "positive" view of the plan. Israel maintains a naval cordon around Gaza, and its consent would be required.
The UN has called for a massive ramp-up of aid deliveries to reduce the impact of the ongoing operation. An estimated 8,000 Gazan residents have passed away since the beginning of Israel's war against Hamas last month, and another 1.4 million have been displaced, according to the UN; about 1,400 Israelis were killed by Hamas terrorists in the cross-border attack that initiated the hostilities.
The Israeli Prime Minister's Office has said that it favors the transfer of additional aid shipments because it "allows Israel an important area of activity to reach its war aims." According to Times of Israel, government officials have argued that increasing aid availability in the south of Gaza will help the civilian population in the northern half to depart and head south, as requested by the Israeli military.