UK Buys a Used Offshore Vessel for Minehunting Mission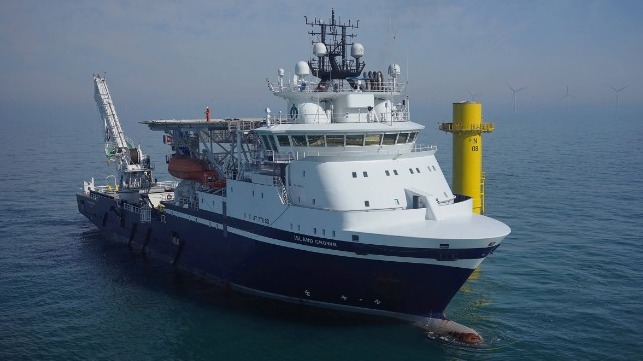 The government of the UK is getting extra mileage out of its shipbuilding budget by acquiring used offshore vessels for naval mission sets. The latest arrival is a new mine-hunting "mother ship," which will operate uncrewed surface vehicles (USVs) in support of mine countermeasures operations in the UK and Europe.
The UK government announced that the former walk-to-work vessel Island Crown, acquired from Norwegian company Island Offshore Management for just $50 million, has arrived in Plymouth for minor conversions before entering service. She will soon be deployed with the Royal Fleet Auxiliary (RFA) to support Royal Navy minehunting capabilities, and will extend the range of the service's maritime autonomous systems from coastal waters to offshore survey operations.
The Royal Navy looked carefully at the commercial S&P market to find the right vessel for the role, so the only real conversion work required will be the installation of military communication systems and other items to support RFA operations. The vessel will work side-by-side with autonomous mine-hunting systems already operated by the Royal Navy out of Faslane.
Her main mission will be operating a range of drones to find and destroy undersea threats. The uncrewed systems she will support will include the French-UK Maritime Mine Counter Measures (MMCM) family of systems, the Combined Influence Sweep (SWEEP) system and a variety of autonomous underwater vehicles.
"This vessel will play a crucial role in the detection of undersea threats, keeping our personnel out of harm's way while they conduct vital operations," Alex Chalk KC, Defence Procurement Minister.
Before her acquisition by the UK Ministry of Defence, the 10-year-old Island Crown was employed as a walk-to-work ship delivering personnel to oil, gas and wind facilities. She has a 50-tonne subsea crane and a motion-compensated gangway, and she is fitted for supporting ROV operations.