U.S. Navy's Top Officer Heads to China Amidst Rising Tensions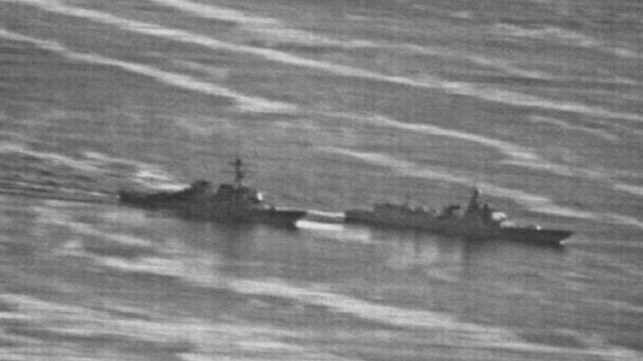 Reflecting the rising tensions between the U.S. Navy and the PLA Navy in the South China Sea, U.S. chief of naval operations Adm. John Richardson is scheduled to visit China next week to meet with his Chinese counterpart, Vice Adm. Shen Jinlong, and leaders of China's Central Military Commission.
The goal of the three-day trip is to continue a risk reduction dialogue between the two militaries, according to the Navy.
"I am looking forward to this trip," said Richardson. "A routine exchange of views is essential, especially in times of friction, in order to reduce risk and avoid miscalculation. Honest and frank dialogue can improve the relationship in constructive ways, help explore areas where we share common interests, and reduce risk while we work through our differences."
Richardson and Shen last met at the 2018 International Seapower Symposium, hosted by Richardson in Newport, Rhode Island. They have also held three discussions by teleconference, with the most recent occurring in December 2018.
Rising tensions
The U.S. does not recognize China's sweeping maritime claims in the South China Sea, and the U.S. Navy routinely conducts freedom of navigation operations (FONOPS) near Chinese-claimed features in the Spratly and Paracel islands to reinforce international maritime standards. China describes these maneuvers as provocations, and has demanded that they cease; at least one high-ranking Chinese defense official has called for ramming U.S. Navy destroyers in response to FONOPS.
During a FONOPS patrol in September 2018, the destroyer USS Decatur encountered the PLA Navy warship Lanzhou off Gaven Reef, a Chinese-claimed feature in the Spratly Islands. Overtaking the Decatur, Lanzhou approached to within 45 yards, and the American vessel altered course to reduce the possibility of a collision.
This week, shortly after the destroyer USS McCampbell transited near the Chinese-claimed Paracel Islands, Chinese state media displayed a deployment of the PLA's advanced DF-26 anti-ship ballistic missile on mobile launchers. The DF-26 "ship killer" missile has a maximum range of about 2,200 nm - suggesting that it could reach the Paracels from secure sites in far inland China, where the launchers would be difficult to strike.