U.S. Navy Destroyer Repeats Black Sea Patrol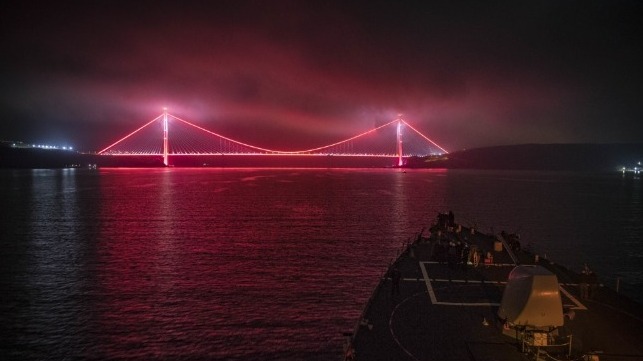 The U.S. Navy destroyer USS Donald Cook has transited the Bosporus and returned to the Black Sea, repeating a voyage that she made last month as tensions between Russia and Ukraine mount.
The Montreux Convention, which gives Turkey governance over the Bosporus, lays restrictions on the presence of foreign warships in the Black Sea. These terms include a 21-day time limit for warships from non-Black Sea states, meaning that the Cook cannot stay within the Black Sea for more than three weeks at a time - but she can exit and return again.
The Cook's return comes at a time of heightened tensions between Russia and Ukraine over the governance of the Kerch Strait, the narrow waterway between the Black Sea and the Sea of Azov. Russian forces rammed, fired upon and detained three Ukrainian naval vessels on the Black Sea side of the strait in November, and Russian prosecutors have filed criminal charges against 24 Ukrainian sailors who were captured during the altercation. The United States and its allies in Europe have called on Russia to release the detainees.
Adm. James Foggo, the commander of U.S. Naval Forces Europe-Africa, said last week that the sailors' detention "irritates me to no end." At the Munich Security Conference last week, Foggo told reporters that the prisoners were not being treated in accordance with their rights as military servicemembers. "They are uniformed Ukrainian sailors and officers and chiefs. They're not criminals, and they are being charged under a criminal code," he said. "That is just absolutely wrong, and it is not the kind of behavior that you would expect from a major power - which Russia wants to be."
For its part, Russia maintains that the incident occurred in Russian territorial waters, not in the international waters of the Black Sea, and insists that the Ukrainian crews were trespassing over its "maritime borders."
Russian drills
According to the Ukrainian media outlets UNIAN and Ukrainian Military Portal, Russia is holding a live fire drill on the north side of the Kerch Strait from February 18-20, overlapping the time period of the USS Donald Cook's arrival in the Black Sea. The drill closure area is located in Temryuk Bay, an area of the Sea of Azov located to the northeast of the strait.
In addition, the drills include an electronic-warfare exercise on the south side of the strait, in the same area as the encounter between Russian and Ukrainian forces last November.
The drills are the latest in a series of Russian restrictions on shipping through the strait. In his comments last week, Foggo described these limits on merchant shipping as "economic strangulation" targeting the Ukrainian economy.