U.S. Navy Awards Future Frigate Design Contracts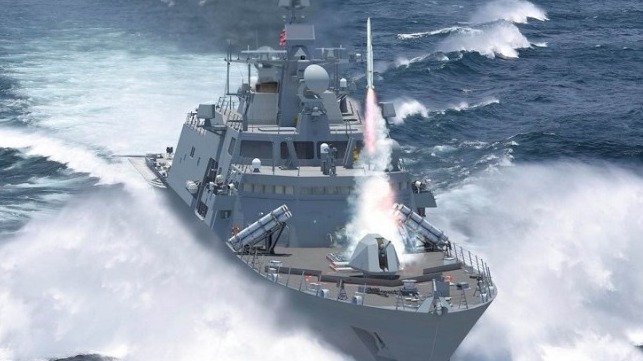 The U.S. Navy has awarded $15 million contracts to five companies for conceptual designs for its future frigate program FFG(X).
Huntington Ingalls, Lockheed Martin, Austal USA, General Dynamics Bath Iron Works and Fincantieri have until June 2019 to submit their detailed design. All the contracts contain options that could grow the value to between $22 million and $23 million, with the Navy expected to award the construction contract for the first vessel in 2020.
Each design selected was based on a mature parent design that is already in production for the U.S. or foreign navies. Foreign designs required a partnership with a U.S. shipyard for construction. The Navy expects to pay anywhere from $800 to $950 million for each vessel.
Austal USA has proposed a variant of the Independence-class LCS. Fincantieri has proposed its 6,700-ton Italian Fregata europea multi-missione (FREMM) design to be built at Marinette Marine and to partner with Lockheed Martin on its Freedom-class proposal. Bath Iron Works has proposed the Navantia Álvaro de Bazán-class F100 Frigate in use in Spain. Lockheed Martin submitted its Freedom-variant Littoral Combat Ship (LCS) parent design in response to the U.S. Navy's FFG(X) conceptual design solicitation with Fincantieri Marinette Marine as its shipbuilder and Gibbs & Cox as its naval architect.
Further detail is provided in the statement from the Department of Defense:
Austal USA LLC, Mobile, Alabama, is being awarded a $14,999,969 firm-fixed-price contract for Guided Missile Frigate (FFG(X)) conceptual design. Austal will be maturing their proposed ship design to meet the FFG(X) system specification. The conceptual design effort will inform the final specifications that will be used for the detail design and construction request for proposal that will deliver the required capability for FFG(X). The conceptual design phase will reduce cost, schedule, and performance risk for the follow-on detail design and construction contract. This contract includes options which, if exercised, would bring the cumulative value of this contract to $21,399,022. Work will be performed in Mobile, Alabama (57 percent); Pittsfield, Massachusetts (33 percent); Annapolis, Maryland (8 percent); Groton, Connecticut (1 percent); and Houston, Texas (1 percent), and is expected to be complete by June 2019. Fiscal 2018 research, development, test and evaluation; and fiscal 2017 research, development, test and evaluation funding in the amounts of $11,000,000 and $1,200,000 respectively will be obligated at time of award and funds in the amount of $1,200,000 will expire at the end of the current fiscal year. This contract was competitively procured via the Federal Business Opportunities website, with six offers received. The Naval Sea Systems Command, Washington, District of Columbia, is the contracting activity (N00024-18-C-2325).
Huntington Ingalls Inc., Pascagoula, Mississippi, is being awarded a $14,999,924 firm-fixed-price contract for Guided Missile Frigate (FFG(X)) conceptual design. Huntington Ingalls Inc. will be maturing their proposed ship design to meet the FFG(X) system specification. The conceptual design effort will inform the final specifications that will be used for the detail design and construction request for proposal that will deliver the required capability for FFG(X). The conceptual design phase will reduce cost, schedule, and performance risk for the follow-on detail design and construction contract. This contract includes options which, if exercised, would bring the cumulative value of this contract to $22,997,330. Work will be performed in Pascagoula, Mississippi (95 percent); and Ocean Springs, Mississippi (5 percent), and is expected to be complete by June 2019. Fiscal 2018 research, development, test and evaluation; and fiscal 2017 research, development, test and evaluation funding in the amounts of $11,000,000 and $1,200,000 respectively will be obligated at time of award and funds in the amount of $1,200,000 will expire at the end of the current fiscal year. This contract was competitively procured via the Federal Business Opportunities website, with six offers received. The Naval Sea Systems Command, Washington, District of Columbia, is the contracting activity. (N00024-18-C-2327)
Lockheed Martin Inc., Baltimore, Maryland, is being awarded a $14,999,889 firm-fixed-price contract for Guided Missile Frigate (FFG(X)) conceptual design. Lockheed Martin Incorporated will be maturing their proposed ship design to meet the FFG(X) system specification. The conceptual design effort will inform the final specifications that will be used for the detail design and construction request for proposal that will deliver the required capability for FFG(X). The conceptual design phase will reduce cost, schedule, and performance risk for the follow-on detail design and construction contract. This contract includes options which, if exercised, would bring the cumulative value of this contract to $21,972,630. Work will be performed in Baltimore, Maryland (39 percent); Arlington, Virginia (23 percent); Moorestown, New Jersey (13 percent); New York, New York (12 percent), Newport News, Virginia (12 percent); and Marinette, Wisconsin (1 percent), and is expected to be complete by June 2019. Fiscal 2018 research, development, test and evaluation; and fiscal 2017 research, development, test and evaluation funding in the amounts of $11,000,000 and $1,200,000 respectively will be obligated at time of award and funds in the amount of $1,200,000 will expire at the end of the current fiscal year. This contract was competitively procured via the Federal Business Opportunities website, with six offers received. The Naval Sea Systems Command, Washington, District of Columbia, is the contracting activity. (N00024-18-C-2329)
Marinette Marine Corp., doing business as Fincantieri Marinette Marine, Marinette, Wisconsin, is being awarded a $14,994,626 firm-fixed-price contract for Guided Missile Frigate (FFG(X)) conceptual design. Fincantieri Marinette Marine will be maturing their proposed ship design to meet the FFG(X) system specification. The conceptual design effort will inform the final specifications that will be used for the detail design and construction request for proposal that will deliver the required capability for FFG(X). The conceptual design phase will reduce cost, schedule, and performance risk for the follow-on detail design and construction contract. This contract includes options which, if exercised, would bring the cumulative value of this contract to $22,977,617. Work will be performed in Arlington, Virginia (40 percent); Marinette, Wisconsin (25 percent); Moorestown, New Jersey (18 percent); Iron Mountain, Michigan (7 percent); Crozet, Virginia (5 percent); and Metairie, Louisiana (5 percent), and is expected to be complete by June 2019. Fiscal 2018 research, development, test and evaluation; and fiscal 2017 research, development, test and evaluation funding in the amounts of $11,000,000 and $1,200,000 respectively will be obligated at time of award and funds in the amount of $1,200,000 will expire at the end of the current fiscal year. This contract was competitively procured via the Federal Business Opportunities website, with six offers received. The Naval Sea Systems Command, Washington, District of Columbia, is the contracting activity. (N00024-18-C-2328)
General Dynamics Bath Iron Works, Bath, Maine, is being awarded a $14,950,000 firm-fixed-price contract for Guided Missile Frigate (FFG(X)) conceptual design. General Dynamics Bath Iron Works will be maturing their proposed ship design to meet the FFG(X) system specification. The conceptual design effort will inform the final specifications that will be used for the detail design and construction request for proposal that will deliver the required capability for FFG(X). The conceptual design phase will reduce cost, schedule, and performance risk for the follow-on detail design and construction contract. This contract includes options which, if exercised, would bring the cumulative value of this contract to $22,900,000. Work will be performed in Bath, Maine (81 percent); Spain (10 percent); and Portsmouth, Rhode Island (9 percent), and is expected to be complete by June 2019. Fiscal 2018 research, development, test and evaluation; and fiscal 2017 research, development, test and evaluation funding in the amounts of $11,000,000 and $1,200,000 respectively will be obligated at time of award and funds in the amount of $1,200,000 will expire at the end of the current fiscal year. This contract was competitively procured via the Federal Business Opportunities website, with six offers received. The Naval Sea Systems Command, Washington, District of Columbia, is the contracting activity. (N00024-18-C-2326)