U.S. Navy Approves $400M and an Extra Year to Complete USS Kennedy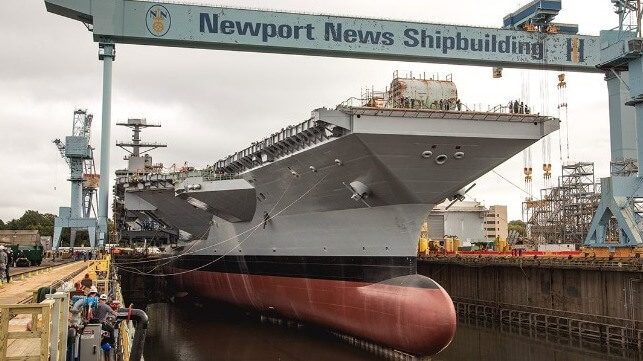 The U.S. Navy and Huntington Ingalls Industries have confirmed plans to push back the delivery date for the second-in-class carrier USS John F. Kennedy by more than a year and increase the baseline budget by nearly $400 million, HII announced Tuesday. The decision echoes the long delays and repeated cost hikes for the construction of first-in-class USS Gerald Ford.
Following the contract modification, USS Kennedy will now be delivered at the end of July 2025 instead of June 2024. The contract modification will allow HII to complete more "baseline work" on the ship before it delivers, rather than catching up after delivery in the post shakedown availability (PSA) period. The objective is to "provide more capability at ship delivery," according to the Navy. Kennedy will be the first in her class to operate in the Pacific, and the service wants her to be ready for service as soon as possible.
"This strategy will decrease post-delivery work required and increase ship capability and readiness at delivery. We understand the importance of Kennedy and look forward to delivering this mission-ready capability to the Navy," said Newport News Shipbuilding VP Lucas Hicks in a statement.
The last time that the Kennedy program was pushed back was in 2020, when the Navy added in two years to the schedule to allow for known modification requirements. These included fixing problems identified during the construction of USS Ford, the substitution of a different radar system, and changes to accommodate the F-35C stealth fighter. (The F-35 was still in development when the Ford-class was conceived, and the carriers were not originally designed to handle the aircraft's specialized needs.)
By the time of delivery, Kennedy will have been under construction for 14 years, twice as long as originally planned. She will benefit from lessons-learned from the extensive repairs to the first-in-class USS Ford; Ford departed on her first full deployment in May after six years of post-delivery overhauls and updates.