U.S. Forces Launch Missile Strikes on Syrian Targets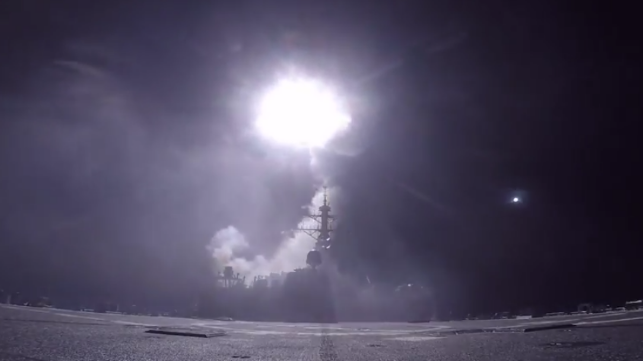 On Friday night, U.S. President Donald Trump ordered missile strikes on Syrian government facilities in response to last weekend's chemical weapons attack in Douma, Syria. Russian and American media reported that the strikes are under way, with additional participation by British and French forces. Unspecified American naval and air assets were involved in the strike.
"We are prepared to sustain this response until the Syrian regime stops its use of prohibited chemical agents," President Trump said in a televised address. "The purpose of our actions tonight is to establish a strong deterrent against the production, spread and use of chemical weapons."
State Department spokeswoman Heather Nauert said in a statement that the strikes targeted "sites associated [with] the chemical weapons capabilities of the Assad regime in Syria." General Joseph Dunford, chairman of the joint chiefs of staff, said that the targets included a scientific facility in Damascus that was used for chemical and biological warfare research; a chemical weapons storage facility west of Homs, which was believed to be the Syrian military's primary stockpile for sarin nerve gas; and a chemical weapons equipment storage facility. For reasons of operational security, Gen. Dunford declined to disclose which American and allied assets were involved in the strike.
Separately, in a social media post on its official account, the U.S. Navy denied reports that an "armada"-sized strike group was headed for the Middle East.
"Reports that an armada of [U.S. Navy] warships heading toward Middle East are false. [The Truman Carrier Strike Group] is on a regularly scheduled deployment to conduct maritime security ops & theater security cooperation alongside allies [and] partners as announced April 11 @FoxNews," the Navy wrote in a Twitter post Friday. The post was directed at Fox News, which had previously published a segment entitled "Armada of US warships steaming toward Middle East."
The U.S. Navy announced Wednesday that the Harry S. Truman Carrier Strike Group had departed Naval Station Norfolk for a regularly scheduled deployment to the 5th and 6th Fleet areas of responsibility, a broad region that would include the Middle East, Europe and the Atlantic.
Truman will be accompanied by multiple front-line surface combatants, including the guided-missile cruiser USS Normandy and the guided-missile destroyers USS Arleigh Burke, USS Bulkeley, USS Forrest Sherman, USS Farragut, USS Jason Dunham and USS The Sullivans. The Sachsen-class German frigate FGS Hessen will join for the first half of the deployment, and the Dunham and The Sullivans will be deploying at a later date and joining the CSG in theater. The Navy did not disclose a specific destination for the Truman CSG.