U.S. Fishing Vessels May Soon Be Exempt from Ballast Water Rules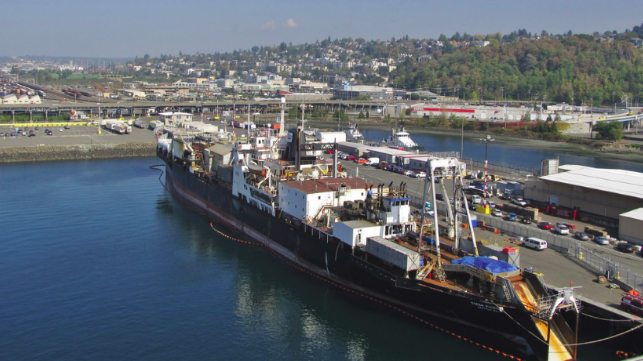 The U.S. Senate has passed the Coast Guard Authorization Act of 2018, and the final text includes several amendments of note for commercial operators - like a permanent Vessel General Permit exemption for fishing vessels.
The Act includes a repeal of the EPA's Small Vessel General Permit (sVGP) program for boats under 79 feet. In addition, it exempts any and all fishing vessels, fish processing vessels and fish tenders from the regulation of discharges incidental to normal operation. This discharge category includes gray water, bilge water, cooling water, weather deck runoff, stern tube lubricant leakage, OWS effluent and - notably - ballast water.
The new legislation will provide regulatory relief for American factory trawlers and fish processing ships, the largest of which measures 680 feet in length and 19,000 deadweight tonnes. These vessels would normally be subject to VGP requirements - including ballast water management rules - if classified as ordinary commercial vessels.
"[The Act] will provide Alaska's fishermen with a long sought peace of mind from the threat of federal regulation. While this issue has taken over a decade to resolve– with a series of 11th hour, temporary extensions over the years – I'm pleased to see Congress provide Alaska's fishermen with a permanent exemption from these over burdensome regulations," said Senator Dan Sullivan (R-AK) in a statement.
"With the [passage] of this bill, fishermen are freed from the fear of having to remain tied to the docks from erroneous regulations. They can now focus on responsibly harvesting domestic seafood enjoyed by millions of consumers every day," said Seafood Harvesters Executive Director Leigh Habegger. "This bill took a lot of work and we appreciate the sincere efforts and ongoing negotiations on both sides of the aisle. We look forward to working with the EPA and the Coast Guard through the implementation process."
Separately, the bill includes language requesting that the Coast Guard include methods to determine the concentration of organisms capable of reproduction - not just living or dead organisms - when it evaluates new ballast water treatment systems. The measure will allow the USCG to harmonize its approvals process with IMO standards and resolve manufacturers' concerns about the service's testing process.
"AWO is very pleased that this much needed legislation, which provides a common-sense solution to a disjointed collection of federal and state vessel discharge regulations, while ensuring the highest standards of marine environmental protection, is one step closer to becoming law," said American Waterways Operators (AWO) president & CEO Tom Allegretti.
In addition, the bill contains several other priorities for commercial operators. These measures include language that will prohibit ocean carrier alliances from negotiating jointly with harbor tug operators; a cabotage exemption for a specific fishing vessel, the America's Finest, which was built with more foreign-made content than allowed under the Jones Act; and an elimination of the requirement that mariners complete an approved radar refresher training course in order to maintain a radar observer endorsement.
Icebreaker service life extension
The legislation also includes an amendment requiring the Coast Guard to deliver a plan on extending the life of the Polar Star, the service's sole remaining heavy icebreaker, until at least 2025. The aging Star spends up to six months out of every twelve in drydock order to keep running, and the amendment calls for enhancing this annual maintenance program while keeping the vessel seasonally available. The bill does not reference the Coast Guard's replacement heavy icebreaker program, which faces funding headwinds.
The legislation now heads to the House, which is expected to take it up after Thanksgiving. In a statement, the AWO said that it is optimistic that the House will approve it and the president will sign it into law.