U.S.-Built Fishing Vessel Cannot Fish in U.S.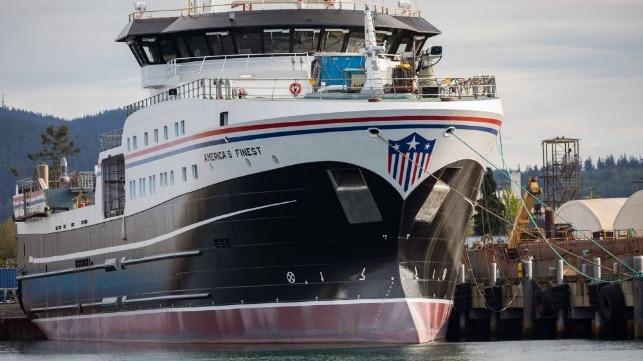 The owner of the new, $75 million catcher-processor America's Finest plans to sell the vessel overseas. Regulations on steel content sank the U.S.-built vessel's ability to fish in the United States, leaving disposal through sale as the best available option.
The America's Finest contains foreign steel. This is not unusual in itself, as Jones Act ships may contain foreign-made flat plates or stock shapes. However, seven percent of the Finest's steel weight was cold-formed in the Netherlands before delivery to shipbuilder Dakota Creek Industries (DCI), a small yard in Anacortes, Washington. Under existing Coast Guard interpretation, cold-forming of steel plate is a form of "fabrication," and no more than 1.5 percent of a Jones Act vessel's steel weight may be fabricated outside of the U.S.
Applying this rule, the Coast Guard's National Vessel Documentation Center (NVDC) concluded that America's Finest is "not be eligible to be issued a Certificate of Documentation with fishery or coastwise endorsements." Without the certificate, she cannot fish in U.S. waters.
Shipowner Fishermen's Finest told media that DCI was not aware of the Jones Act limits on foreign-fabricated hull shapes at the time the materials were ordered. After the NVDC's decision, the two companies worked with Anacortes' congressional representative, Rep. Rick Larsen (D-WA), in an attempt to secure a congressional waiver for what DCI's lawyer described as a "one-time technical misunderstanding." A waiver amendment for the vessel was included in the House version of the Homeland Security budget, but it did not make it into the final omnibus bill.
Fishermen's Finest president Dennis Moran told National Fisherman that the firm's next move will involve listing the boat for international sale. "There's a lot of fishermen who could be working on a boat that's safe, strong, and productive," he said. "But apparently that's the way it's going to go down."