U.S. Coast Guard Offloads Six Tons of Cocaine in Miami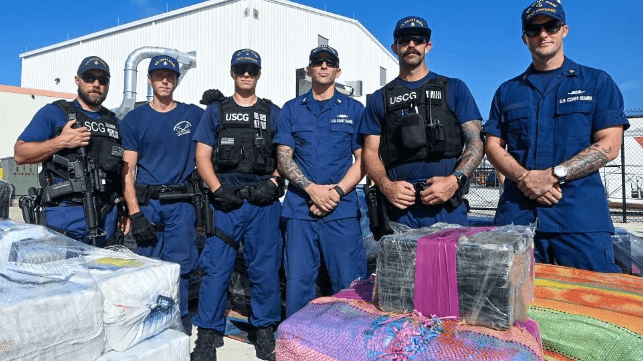 On Tuesday, the crew of the Coast Guard cutter Confidence delivered a massive haul of six tons of cocaine to a secure pier in Miami, Florida. The drugs were seized in a series of interdictions by the Coast Guard and its partners in the Caribbean Sea, and the combined value of the haul came to an estimated $160 million.
The counternarcotics mission in the Caribbean is a truly international effort. The U.S. Coast Guard, U.S. Navy, Royal Canadian Navy, Royal Netherlands Navy and Royal Navy all provide vessel platforms for Coast Guard law enforcement teams in the region. Partner nations in Central and South America contribute to surveillance and enforcement in coastal waters. U.S. Customs and Border Protection (CBP) conducts overflights to spot inbound narcotics boats. The U.S. government's remote-sensing and R&D community also contributes to the task of vessel detection.
The vessels that contributed to this round of drug seizures included USCGC Confidence and USCGC Valiant, both older WMEC medium-endurance cutters; the Dutch patrol ship HNLMS Groningen; and the Royal Navy air defense destroyer HMS Dauntless. CBP aircrews and the U.S. Coast Guard's Pacific tactical team also played a key role.
The final interdictions are all carried out under the direction of Coast Guard 7th District, and coastguardsmen conduct all the boardings and arrests.
"Our team worked extremely hard, day-in and day-out, to stop illicit narcotics from reaching the United States," said Cmdr. Thomas Martin, commanding officer of Confidence. "I am honored to serve with such a proficient crew and share in their success."
Along with the narcotics, 17 suspected smugglers were detained and brought back to Florida to face prosecution.

"Yesterday's contraband offload represents what can be achieved when U.S. and international defense and law enforcement agencies work together," said Lt. Fernando Pla, duty enforcement officer for Coast Guard District Seven. "This teamwork continues to deter the illicit drug trafficking market and is a testament to the hard work of these crews."