Two Freighters Lost in Black Sea Storm, 12 Missing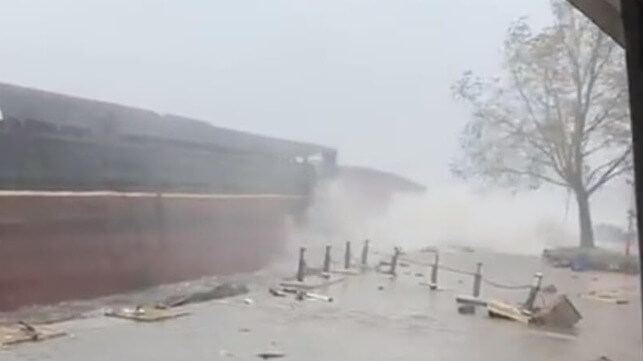 Two coastal freighters were lost in a severe storm at the port of Eregli, Turkey on Sunday, according to Turkish officials, and one of the ship's crewmembers are missing.
According to Interior Minister Ali Yerlikaya, the cargo ship Kafkametler was caught in severe winds and seas just outside of the port of Eregli, where it had attempted to take shelter from a storm. Kafkametler drifted onto a breakwater and sank alongside, and all 12 crewmembers are missing.
At the storm's peak, winds reached 75 knots, with accompanying extreme wave heights. Foul weather continued throughout Sunday. "In such adverse weather conditions, unfortunately, we could not carry out search and rescue activities for our twelve citizens, the twelve Turkish crew on the Kafkametler," said Yerlikaya, according to local outlet A Haber. "Once the adverse weather conditions have improved, search and rescue activities will begin immediately."
Stormy weather. Black Sea. Cameroon merchant ship Pallada broke into two parts. pic.twitter.com/p4bFf1ZRtr

— JR2 (@JanR210) November 19, 2023
19.11.2023 saat 10'da AAKKM'ye ula?an EPiRB sinyaliyle Kamerun Bayrakl? PALLADA gemisinin f?rt?na sebebiyle hasar ald??? ve K.Ere?li'de karaya oturdu?u anla??lm??t?r.
Merkezimiz koordinasyonunda, AFAD ve itfaiye ekiplerince gemide bulunan 13 personelin tamam? tahliye edilmi?tir. pic.twitter.com/9VggbEmKjA

— DEN?ZC?L?K GENEL MÜDÜRLÜ?Ü (@denizcilikgm) November 19, 2023
A second ship, the river-sea class coastal freighter Pallada, dragged anchor in the storm and drifted up to the waterfront at Eregli (above). Pallada broke in two - a vulnerability seen in other river-sea class casualties - but photos from the scene show that the stern section remained above water. All 13 crewmembers were safely rescued by first responders on shore.
A third ship, the Sormovskiy 45, also went adrift, according to local authorities. The Sormovskiy had better fortune and was rescued by a harbor tug.
Kafkametler had a previous brush with danger just six weeks ago. The ship hit a mine off the Sulina Canal on October 5, but was unharmed and had continued on her voyage - only to be lost in a storm this Sunday.